Taylor Swift Reveals Her Celebrity 'Family' During July 4th Party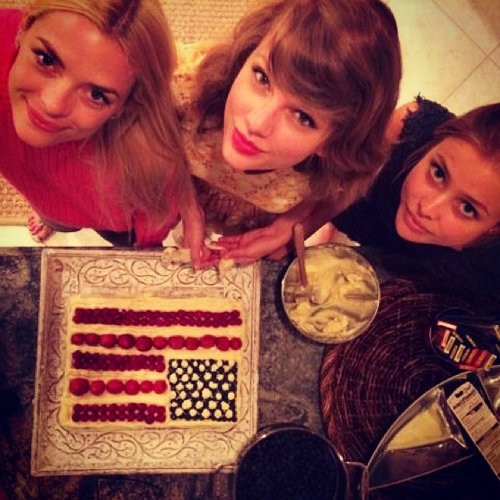 Taylor Swift took advantage of her huge mansion in Rhode Island to celebrate Independence Day, inviting dozens of famous friends over for a weekend-long party.
Swift started early with models Jaime King and Amanda Griffith, baking an American Flag cake in the musician's $18 million dollar mansion. Swift name-dropped celebrity chef Ina Garten in her caption, writing, "Look @inagarten !!!! We wish you were here-- love, TS, @jaime_king @amandygriffith." King and Swift also dove into a pool on inflatable animals in another picture from the day, captioned, "jaime_king and I never enter a pool casually."
July 4th was a rainy mess in New England thanks to Hurricane Arthur, but that didn't seem slow down Swift's weekend. She wrote, "When the 4th of July gives you nonstop rain, make a giant slip n slide," with a photo of herself sliding down a hill on an inflatable turtle.
After that her group of friends hit the beach in a series of photos, Swift writing "Ocean State," and, "Sea Stampede."
Finally, at the end of the weekend, Taylor posted a photo of all of her friends with the caption "Family portrait." In photo are Emma Stone, Jessica Szohr, Jessica Stam, Odeya Rush, Jaime King, Ingrid Michaelson, and Lena Dunham. Quite a family!