Taylor Swift Repulsed By Selena Gomez/Justin Bieber Kiss At Billboard Awards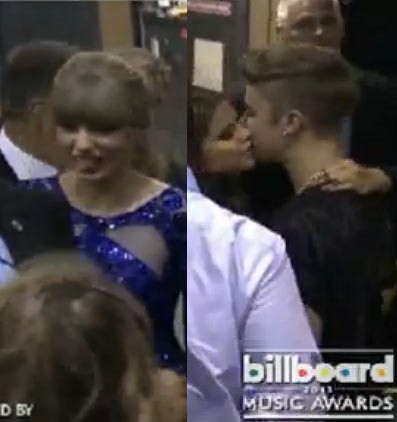 Taylor Swift isn't a big fan of BFF Selena Gomez's on/off boyfriend Justin Bieber.

The country singer looked visually disturbed during Sunday night's Billboard Music Awards when pal Gomez stopped backstage to give Justin a couple of kisses.

Taylor walked in with Selena and kept going when her friend stopped to chat with her beau, turning her head away and sticking her tongue out. It was all captured on the backstage cameras.

The singer also wasn't too happy with Justin's win of the inaugural "Milestone Award," and she made it known backstage during a press session.

A cheery Swift called for a question from a nearby reporter, who dared to ask her, "What are your thoughts on Justin winning the milestone award so young?"

Taylor's mood quicky changed. "Can we have another queston?" she asked.

Justin's win didn't come without drama though, as he took the stage the crowd at the MGM Grand Garden Arena in Las Vegas began booing.

After a long pause, Justin gave his acceptance speech, telling the crowd he doesn't want the focus on his life, but on his music.

"I'm 19 years old, I think I'm doing a pretty good job and basically, from my heart, I really wanna say it should really be about the music. It should be about the craft, the craft that I'm making," he said. "This is not a gimmick. I'm an artist and I should be taken seriously and all this other bull should not be spoken of."
Watch the video below...