Taylor Swift Reigns Over 2013 Billboard Music Awards - Full Winners List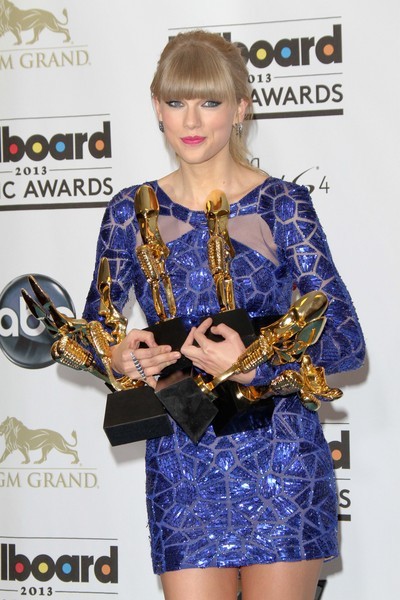 Taylor Swift earned eight trophies at the 2013 Billboard Music Awards last night, but she's sharing the spotlight with a trio of stories from the show.
Swift was against fun. and Maroon 5 for most of the night, each earning 11 nominations. However, as Swift began to win one award after the other, it was clear she would almost sweep the competition.
Swift had already won six awards before the telecast - Billboard gives out accolades beforehand to shorten the show. She then went on to take Artist of the Year and Top Female Artist.
Justin Bieber won Top Male Artists, as well as awards for Top Social Artist and the fan-voted Milestone Award.
Three events have taken headlines away from the winning artists, however.
Miguel was the anti-star of the night, after he leg-dropped two women during his live performance. While attempting to jump over the crowd between two walkways, Miguel's feet ended up slamming onto the heads of two women and smashed them back against said walkway. Miguel then continued to "sing," making sure to keep up with his pre-recorded track (more on this in a moment). Watch it below.
Justin Bieber was soundly booed while taking his Milestone award, even though the prize was based on fan votes. He then went on a Kanye-esque mini-rant, explaining that his music should be the only thing considered and that "none of the other bull" mattered. He then said, "This is not a gimmick. I'm an artist and I should be taken seriously."
Finally, Kid Rock said what many people were probably thinking at home when he presented the Top Rap Song. "Let's give it up for people lip-synching under pre-recorded music," he said to the crowd. The remarks made headlines, as it followed Selena Gomez' and Chris Brown's music performances.
Check out the night's fashion here.
A full list of Billboard Music Award winners on the next page!