Taylor Swift: 'I've Never Wasted Too Much Time With The Wrong Person'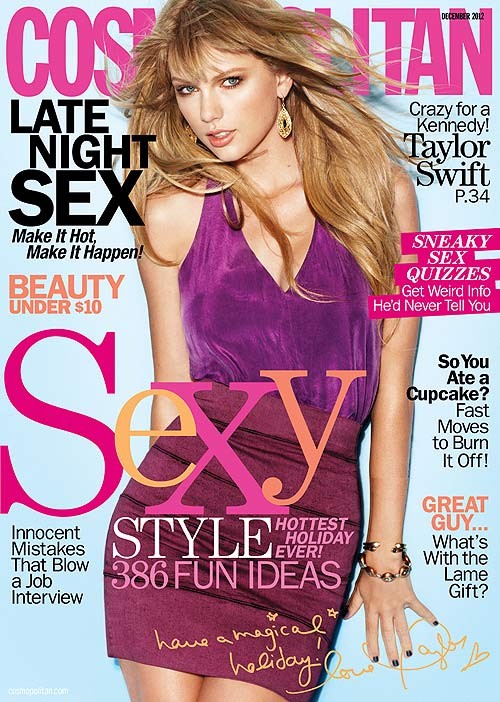 Despite the cover tagline "Crazy For A Kennedy" on the December issue of Cosmopolitan magazine; Taylor Swift is now single after reportedly splitting from Conor Kennedy last month after it became apparent that the distance between them would be an issue (even though she bought a house across the street from his grandmother).
Taylor's now rumored to be dating One Direction's Harry Styles; and although she realized that Kennedy wasn't 'The One' based on their schedules (he's in college, she's on a world tour supporting her new album, "Red") there are other things she finds unacceptable when it comes to her significant other (take heed, Harry).

"I can't deal with someone wanting to take a relationship backward or needing space or cheating on you," she says. "It's a conscious thing: it's a common-sense thing…I just don't ever want to end up in a relationship that isn't fair ever again."

And after dating the likes of Joe Jonas, Taylor Lautner, John Mayer and Jake Gyllenhaal and writing countless hopeless romantic breakup tunes, Taylor says if the spark isn't there, she's just not into it.

"I need that unexplainable spark…I just need to see someone and feel Oh, no, uh-oh," The 22-year-old singer reveals. "It's only happened a few times in my life, but I feel like if I was gonna be with someone forever, it would be because I saw them and I thought, Oh, no.

"I've had a lot of dark and twisty situations happen," she adds; "enough to realize that when someone exhibits signs of evoking a dark and twisty relationship and dark and twisty feelings, it's not interesting to me.

"I've learned when to get out. I've never wasted too much time with the wrong person and that's one thing I'm proud of."

Read more about Taylor in the December issue of Cosmopolitan, on newsstands now; and at Cosmopolitan.com.