Taylor Swift Has Pink Hair, Gets Affectionate With Co-Star On Set Of New Music Video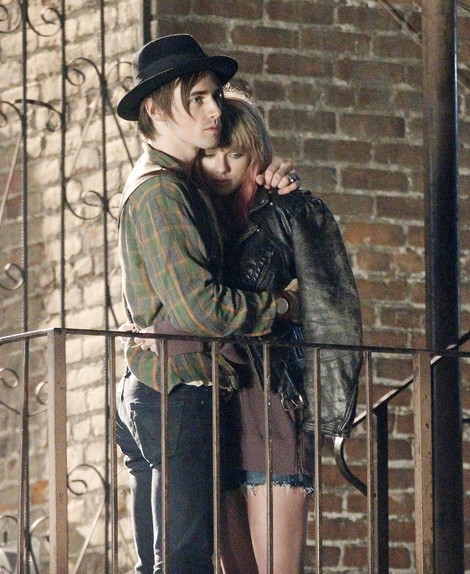 We spotted Taylor Swift getting cozy with co-star Reeve Carney on the set of her new music video, "I Knew You Were Trouble," which is filming on location in Los Angeles.
The singer wore cut-off denim shorts, a brown sweater and (presumably) her video boyfriend's leather jacket. She also had pink-tipped hair.
On the second day of filming Swift played around in skinny jeans, converse sneakers and a plaid shirt while Carney showed off his tattoos in a wife beater tee and suspenders. At one point Carney takes Swift on a piggy back ride near some train tracks.
Swift is reportedly dating One Direction star Harry Styles. She is known for writing songs about her boyfriends and lovers. "I Knew You Were Trouble" includes the lyrics: No apologies/ He'll never see you cry/ Pretend he doesn't know/ That he's the reason why/ You're drowning, you're drowning, you're drowning.
Hmmmm...who could she be writing about? She's dated such stars as John Mayer, Jake Gyllenhall and Joe Jonas and recently split with Conor Kennedy.
See more photos from the video set...