Taylor Swift Dazzles At FiFi Awards, Honored With Celebrity Fragrance Of The Year Accolade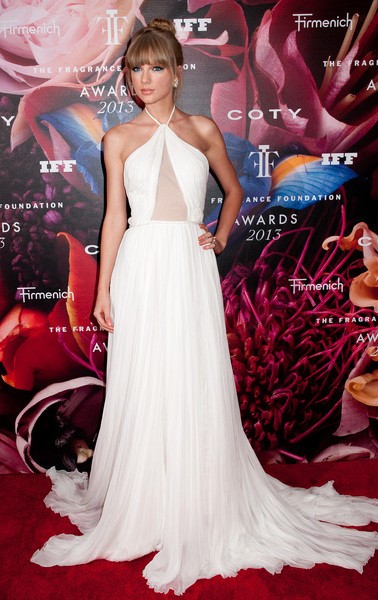 At last night's Annual Fragrance Foundation Awards (also known as the FiFi Awards), Taylor Swift was honored with the Fragrance Celebrity of the Year Award.
The singer's first perfume, Wonderstruck, was the top-selling fragrance of 2011. Last year, she released Wonderstruck Enchanted, and her third fragrance, Taylor by Taylor Swift, hits stores later this month.
"My first fragrance, Wonderstruck, it was all about a day dream, a fantasy, this romantic ideal that we all have," Taylor said when accepting her award. "I love telling stories, I love starting at the beginning and adding things as you go. This is truly a nice page to add to that story."
Swift looked lovely in a white flowing halter dress with a sheer panel on front. She piled her hair up on a bun, and let loose bangs hang down around her face.
The FiFi Awards have been held annually in New York City since 1973.