Taylor Lautner Plans On Winning An Oscar Someday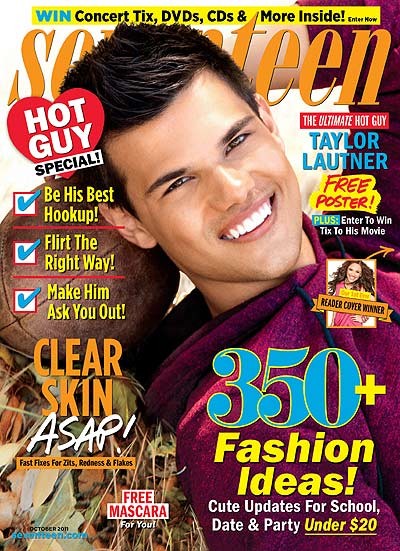 Taylor Lautner is leading a new pack in the latest issue of Seventeen magazine as he heads up the October "Hot Guy Special" issue.

Taylor features among the likes of Liam Hemsworth & Josh Hutcherson - stars of next year's highly anticipated The Hunger Games - and Fright Night 3D's Dave Franco in the new issue. Speaking of leading, the Twilight hunk is also set to take the lead in his first feature role in the upcoming Abduction, opposite Lily Collins.

"You can feel some sort of chemistry or a connection when you are reading a script with someone for the first time," he tells Seventeen about working with Collins, "And that was totally the case with Lily."

In fact, according to a costar Denzel Whitaker (who's also featured in the new issue) the couple are now Hollywood's latest hot item.

"It's kind of like that teenage love in high school," he tells E! News.

And as far as Taylor's acting career goes - he's set some pretty big goals for himself.

"I believe in the saying, 'If you aim at nothing, you're going to hit nothing.' So if you don't set goals, then you have nowhere to go," he says.

"I guess winning an Oscar is the ultimate dream. A lot of amazing actors go their whole career without even being nominated. So that would definitely be a goal to reach. It's a difficult one, but I'm aiming for it!"

Check out more of Taylor in the October issue of Seventeen, which hits newsstands Tuesday, September 13th, and at Seventeen.com.