Taye Diggs Pens Children's Book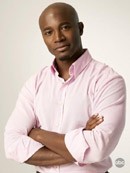 Actor Taye Diggs has joined the ranks of the celebrity children's book authors.

The Best Man star chronicles one boy's struggle to fit in with those around him because of his race in new book Chocolate Me!, and the black actor hopes the story will help his own two-year-old son, Warner, when he begins school.

He says, "You should be proud and embrace your differences regardless if race or religion or if something is looked upon as a handicap."

And the star admits the project was inspired from his own personal hardships.

He adds, "The book is about a time in my life when I lived in a neighborhood where no one looked like me and (it) resulted in me getting made fun of... My mother then sat with me and convinced me to embrace my differences and that I should love the qualities and features I have regardless of what others thought."