Taryn Manning on Her New Single, 'Hawaii Five-0' and Stereotyping
Taryn Manning is secure in her identity. The singer, actress, dancer and fashion designer is busy with a variety of projects, but her strong personality shines through in everything that she pursues, including her recently released single "Send Me Your Love", her forthcoming album Freedom City, and her return to CBS's Hawaii Five-0.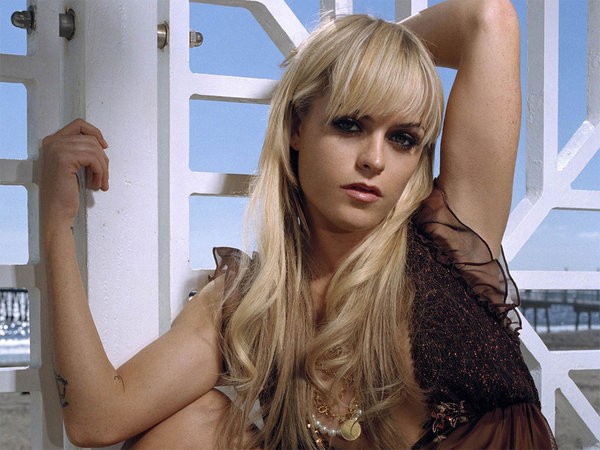 "Send Me Your Love" is a dance anthem that features the DJ/producer duo of Sultan and Ned Shepard, but it boasts a much deeper lyrical meaning than your typical electronica tune. "This song's about my love story with faith and God," explained Taryn, who wrote the song for her late father. "When I feel down, that's what I turn to."
While that may be what the song represents for her, Taryn also encourages others to find their own meaning in the track: "Some people think it's about a man and a woman, and that's fine too, because that's what music is about. It's like a universal language. It can be interpreted in many different ways."
"Send Me Your Love" is being released ahead of her album Freedom City, which is due to arrive later this month. After being one-half of the band BoomKat with her brother Kellin since 2003, Freedom City is Taryn's first solo album, which has taken a little while because Taryn has had to juggle her musical career with her acting career, which she concedes is "tricky...This album, we've been wanting to start putting it out for quite some time, and getting everything together, and literally we put this song out and Hawaii Five-0 comes calling!"
She's on her way to Hawaii to shoot a return appearance for the upcoming third season of the CBS drama, on which she's played Steve McGarrett's wayward sister Mary Ann off and on since the first year. Her character has been somewhat of a wild card: CBS touted her as a regular at one point, only for Mary Ann to be shipped back to the mainland later on.
For her part, Taryn made it clear she's just excited to be back and getting to work again with her on-screen sibling Alex O'Loughlin (pictured below with Taryn)."He's not only attractive, but he's very, very sweet," she said. "He's a very genuine, kind, really nice guy. I really like Alex. We kind of have this cool rapport."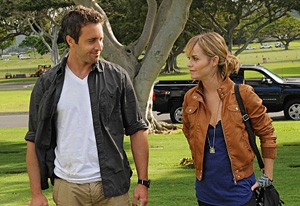 She hopes that the show's wider focus in its second season might allow us to see more of Mary Ann. "That's what's cool about TV shows that go on and on," she said. "You'll start seeing different people introduced, characters get married and have kids." Steve and Mary Ann's mother will also be in season three, as played by Christine Lahti (Chicago Hope). H50 returns to CBS on September 24, so Taryn will have a music debut and her on-screen return in the same month.
How does Taryn balance the demands of acting and music? "I think that each one can fuel each other. We're seeing it now with so many different celebrities and musicians that are out there," she added. "I really take both seriously and I hope that I'm taken seriously. Somehow I've managed to do both!"
Asked to name a favorite line on her diverse resume, Taryn picked an unlikely one - not 8 Mile, not Law & Order: Special Victims Unit, but a smaller movie you probably missed. "I loved the film that I did with Freddie Prinze Jr. called Jack and Jill vs. The World. I play his girlfriend and I have cystic fibrosis. She was going through this disease but yet her spirit was so peppy," she explained.
"For all the people out there who think I only play these kind of edgy, white trash one-dimensional characters, I would love for more people to see this romantic comedy I did with layers. I would love for more people to see that side of me."
This turns the conversation to the subject of the stereotyping actors and actresses, something that Taryn has experienced over her career. "I had a director tell me, 'I didn't even want to meet you, because I thought A, B and C about you, but honestly you're one of the most sophisticated, well-read, most-traveled of all of them,'" she explained. "And [it's] not just me. I have friends that get stereotyped as the pretty boy or the beautiful girl."
That's not something that sits well with Taryn, who places a strong emphasis on individuality. "I believe in standing up for yourself," she explained, "and that we're all individual and that we're all special. I encourage everybody to live their dreams."
For her, the dream is a project that allows her to use all of her talents, rather than just one at a time. "I'd like to do a project that ties together my years of ballet, my years of singing, and all my acting," she added, "like a Moulin Rouge or some kind of cinematic, very different type of musical, that incorporates all of that."
"It's a crazy business," she said, reflecting on life in the entertainment industry, whatever its form. "When you're on top, the next challenge is how to stay on top. It never really gets easier." But that doesn't necessarily bother Taryn Manning, because she isn't going to let that change her. She's found a career path she's happy with on her own terms.
You can follow Taryn Manning on Twitter (@TarynManning) and also find her on Facebook. For more from Brittany Frederick, visit my Starpulse writer page and follow me on Twitter (@tvbrittanyf).  
(c)2012 Brittany Frederick/Digital Airwaves. Appears at Starpulse with permission. All rights reserved. No reproduction permitted.