Taraji P. Henson And 'Person Of Interest' Cast Give Insight On Season 3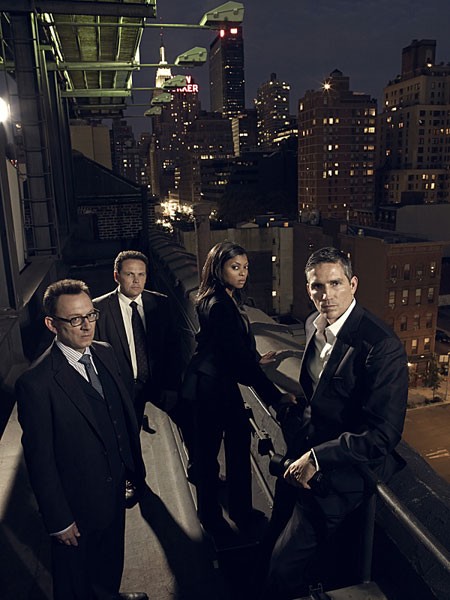 The 'POI' cast appeared more subdued when I interviewed them at NYCC this year, contrasted with last year. There were hints in their interactions with each other and their responses to questions which hinted at a coming change. While last year, Taraji P. Henson and Kevin Chapman hopped onto the red carpet and traveled between tables like two Mardi Gras revelers, this year they appeared quieter. Although I can guess why, I still appreciated sitting down with the stars of my favorite TV show.
I've enjoyed Taraji P. Henson's portrayal since day one. I loved when CBS increased her interaction during the first season. The quiet intensity that frequently sizzled between herself and Jim C. made the show ten times more enjoyable. When season two's second half separated the two without further explaining the incidents in and immediately after "2 Pi R" where we see her sacrifice her beliefs and utterly confess her feelings, I looked forward to interviewing the cast about Cater's season three arc.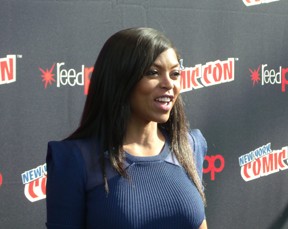 Taraji P. Henson and Producer Greg Plageman
I said this before and I'll say it again, men love Taraji P. Henson. Last year, ALL of the men at my roundtable gave Taraji a standing ovation. This year, when she entered the room, one of the male writers beside me whispered "ohmigosh, she's beautiful." While last year, Taraji carried her own party bus between the pressroom tables, this year, seated beside producer Greg Plageman she appeared more sedate and serious. While I enjoyed her lightheared fun in last year's interview, this year she emphasized her pride in Carter's resilience, intelligence and strength. She talked to the 'CaReese' relationship pointing out that John and Joss connect because they're soldiers who underwent similar experiences.
Considering the ongoing 'CaReese' development, I wondered if the producers read any of the on-line fan fiction. Most 'POI' fan fiction surrounds John in Joss' apartment, a Zeese/Careese weekend away, an all hot girls sting operation and/or a tearful declaration by Joss/John for each other. Considering that covers Season Two's 'Bad Code,' 'The High Road,' '2 Pi R,' 'Prisoner's Dilemma' as well as season three's 'Lady Killer,' I wondered if he or his staff ever read fanfiction.net. While he confessed to reading the on-line boards, he believes recent episodes coincide with fanfic because that's what he and his writing staff want to see as fans of the characters.
Although Greg didn't address why Carter went off-book last year, he emphasized that she remains the show's moral core and will never stop seeking justice.
For the full interview, see below or click here, http://youtu.be/Z05MUd5haKA.
Sarah Shahi and Amy Acker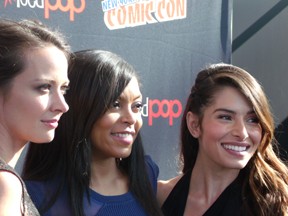 Have you ever judged a book by its cover? I abashedly did so regarding Sarah Shahi's Shaw character last season. After watching Shahi on 'Fairly Legal' and 'Chicago Fire,' as the pretty woman in high heels, when she joined the 'Person of Interest' cast last year for a limited arc, I couldn't enjoy the character. Every single scene, I noticed Shahi's Breck Girl hair and couldn't see the androgynous Shaw character penned by the production staff. This year, when she permanently joined the cast, I watched her with fresh eyes. I no longer saw her previous characters, but the current tomboyish construct she portrayed. Shahi herself pointed out the character had not changed since the the previous season.
While Kevin and Taraji appeared more low energy this year, contrasted with the previous year, Amy also did a slight shift, clothing-wise. While last year, she wore casual jeans and sneakers, this year, she rocked heels and a black silk jumpsuit. Although I gushed over Root last year, I enjoyed Root doubly this year. While last season Root featured an unhinged crazy, this year it's more controlled which makes her seem scarier.
For the full interview with both leading ladies, see below or click here http://youtu.be/kKmUABwNTNI.

Kevin Chapman and Jim Caviezel
Jim Caviezel is incredibly soft-spoken. If not for his ridiculous good looks, amazing abs and leading man charm, he could've served as a librarian in a past life. Similar to his character, he's soft-spoken yet taciturn. There are a couple times I prodded him to share more than five words. However, in retrospect, I almost understand why he hesitated. He admitted that he loved working with Taraji and loved when their characters interact. He hinted at something special coming up, but stopped. I wanted to press him further, but I didn't push for more. Although he's quiet, he possesses a surprisingly wicked sense of humor. He joked about sending John Reese to beat the "ass" of the hacker who watched Miss Teen USA through her computer. Although Kevin appeared less effusive than last year, he detailed his love of working with Carter's character and Taraji P. Henson.
'Person of Interest' appears every Tuesday night. 
Related article: Did 'Person Of Interest' Kill Carter?