Tara Strong Teases The 'My Little Pony: Friendship Is Magic' Season Finale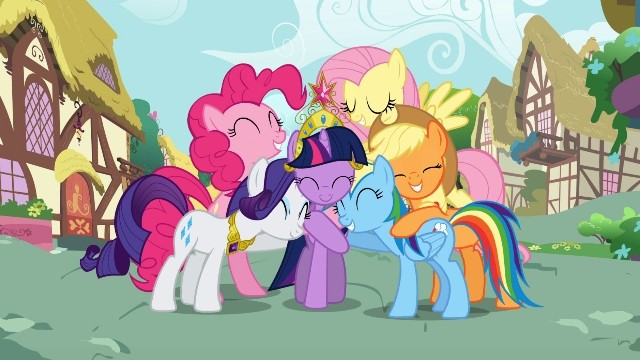 She's happy to be a part of My Little Pony, with its varied and devoted fan base. "I've been doing animation for a very long time. I've seen some pretty incredible fandoms and I've never seen anything like the My Little Pony fans," said Tara. "It's creating this community all around the world. It's sort of bringing the world together in a feel-good world. And I think that's a huge testament to the writing, and how beautiful the show looks, and the creation of this world."
"Sometimes as a voiceover performer, you don't know how your stuff is affecting people," she continued, adding that social media has helped her realize the impact. "There's nothing new about a show that attracts an audience, What's new is them being so vocal about it. It's just so lovely to hear people talk about how it's changed their life."
That particularly extends to the show's ability to work against the common adolescent problem of bullying, with the positive messages it portrays. "I'm really glad to be a part of helping kids that feel bullied, because the show's all about love and tolerance and friendship," she said, pointing to the song "Take My Hand", which she co-wrote and recorded after being inspired by stories of MLP fans being bullied. "Just the fact that I was able to make them feel good. Iif I could have one person feel like they're not alone and to ignore bullying, I think that really makes me extremely proud."
She's even seen the positive effects of fandom in her own life. "i've raised a lot of money for a good friend of mine's little girl who has a brain tumor," Tara added, directing fans who'd like to help out to Kiki's Cancer Fund. "This girl wouldn't be alive today without the MLP fans." Talk about a great fan base!
With everything she's done and no official word on a next season of MLP (although the network and the studio are said to be very committed to the series, so we'd say outlook good), what's left for Tara Strong to do? Well, first she's campaigning for another Shorty Award, and then...
"I'd love to be a part of The Simpsons," she said. "I think that's the only show I haven't done that I'm like, 'Wow.'" Paging FOX and Matt Groening...
You can keep up with Tara on Twitter (@TaraStrong). My Little Pony: Friendship is Magic airs today at 10:30 AM ET/1:30 PM PT.
For more from Brittany Frederick, visit my official website and follow me on Twitter (@tvbrittanyf).
(c)2013 Brittany Frederick. Appears at Starpulse with permission. All rights reserved. No reproduction permitted.