Tara Reid Evicted From British 'Celebrity Big Brother'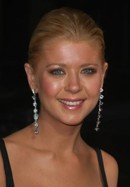 Actress Tara Reid was booed on live TV on Friday after complaining about the way she was portrayed on Britain's Celebrity Big Brother.

The American Pie star was evicted from the U.K. reality series, which sees a group of celebrities 'locked' in a house together, after losing out on the public vote. She then sat down for a post-eviction interview and grew visibly upset as she watched footage of her time on the show, insisting, "We shoot it for 24 hours, they edit it down to one hour - I don't know what they show."

The star then accused producers of editing episodes to show only her "toughest times," prompting the audience to boo and hiss.

She ranted, "To be honest with you, what I've seen just of these clips right now, I'm not that happy with that. There was a lot of great times (but) I feel like you guys took the toughest times of me and showed it, which is kind of sad. There were so many good things."
 
"If that's the only things that you guys showed in the hour, no wonder why people booed me."

Host Brian Dowling abruptly wrapped up the interview before leaving the studio and telling the crowd, "Well, it's live television. There we go!"