Tara Reid Denies Reports She's Been Snubbed From 'Sharknado 2'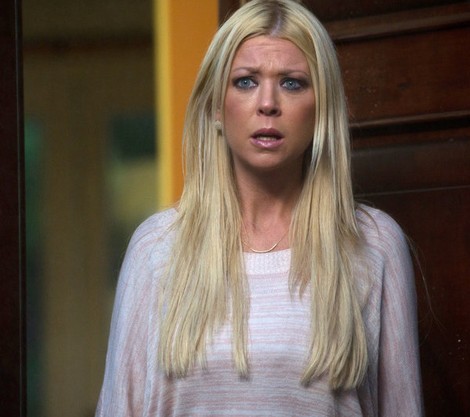 UPDATE: "Sharknado" producer David Latt confirmed that Tara's still on board to The Hollywood Reporter on Monday.
He says he'd like all the stars to return for the second er, helping,
"Tara is invited back. Honestly, I don't know where that (story) came from," Latt said. "Hopefully she'll be the one turning us down because this bizarre film gives her - and the rest of the cast - some great opportunities...
"Despite all of the rumours and tabloid stories, Tara was great to work with. She showed up to play. Knew her lines. Was into this crazy, silly film. No drama. No diva... She was great and we would be lucky to have her in S2."
---
Tara Reid has blasted reports that she's been snubbed from the sequel to SyFy's smash hit (on social media, that is) Sharknado.

The actress, who starred in the TV movie alongside Beverly Hills, 90210's Ian Ziering, was reportedly dropped from the sequel by producers in favor of keeping just Ziering on board as the action shifts from Los Angeles to New York City.

"There is no script for sharknado 2 until i read it then i will make a decision but everyone that is saying i got cut that is not true #liars," Reid tweeted on Sunday.

The film, about a freak tornado that pulls sharks out of the Pacific coast waters and drops them over southern California, pulled in 1.4 million viewers when it premiered, which is actually a good figure for a small net like SyFy. Producers are banking on the success of the first film and have begun work on a sequel.

TMZ.com reported over the weekend that only Ziering -- who plays the appropriately named Fin Shepard in the film -- has been asked back, but Reid disagrees with that report.

"Sharknado 2" is planned to hit the small screen in summer 2014.