Tanya Chisholm On Fourth (And Final?) Season Of 'Big Time Rush'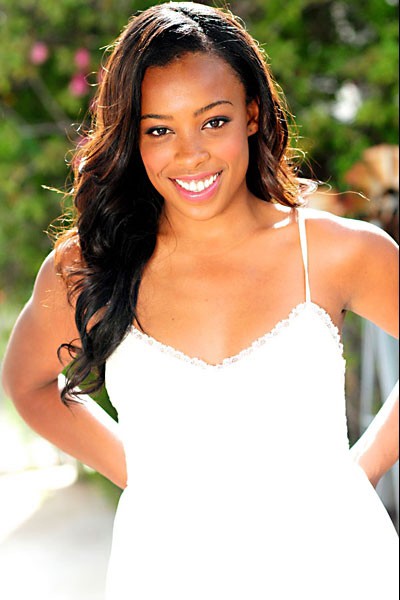 On Nickelodeon's hugely popular series Big Time Rush, Tanya Chisholm plays talent scout Kelly Wainwright - but in real life, she's a talent in her own right. BFTV recently chatted up Tanya to discuss the recently-premiered fourth (and possibly final?) season of BTR and her love of comedy.
Tanya's own star story began at seven, when she took the stage in a play. "I was the first person on stage and a spotlight came on to open the show and it was on me," she said. "I was just like, 'Oh my Gosh.' It was this overwhelming feeling of 'I want to do this forever.' It was awesome."
From that point on, the eye-opening moments never stopped coming for her. "I grew up in South Florida, so I auditioned to get into UCLA. Then I got into the program," she continued. "Then I got a manager. Then I got an agent. It was just all these little moments. It kept reminding me that I was on the right path."
She's excited for fans to see the fourth cycle of Big Time Rush, which just started airing on Nickelodeon. "I feel like this season is the best season yet," Tanya enthused. "In the past there were a few episodes that were totally awesome. This season it's pretty much every episode. We have some pretty cool guest stars. A lot of big things happen."
The show has a pretty enthusiastic following, not to mention the corresponding band that's put out several albums and had a summer concert tour. What's it like for Tanya to be part of something so popular? "It's a little different because I'm an adult. I think it would be a lot crazier if I was a little younger," she commented. "But most of my friends don't watch Nickelodeon all the time, so it's not like everyone around me is like 'Oh, my God.' Then you see a kid on the street, and they look at you like 'Oh, my God,' and then I remember. In my regular life I don't really think of it that much, but then you get on Twitter and you see [the popularity]. It's cool."
Outside of BTR, Tanya recently filmed a guest spot for TNT's Rizzoli and Isles, and she also previously appeared in the popular CBS series Cold Case, which she particularly enjoyed because she played a dancer. "It was just a cool amalgamation of acting and dancing. For me, the experience of it was an awesome coming together of all the things I love to do," she reflected. Another highlight? "I was in High School Musical 2, which is one of the things people go crazy over."
What would she like to do in the future? "I'm super grateful that I'm just working in general. But I really do want to do something a little edgier," she said. "Something like Arrested Development, which is one of my favorite shows. [It's] one of the most brilliant TV shows I've ever seen. The talent on that show is just crazy. And then I love how, if you watch it from the beginning, all of the jokes are very tied into the things that've happened before. It's really smart. I want to do a little bit more drama too. I never want to put myself in a box, because I enjoy everything."
For now, Tanya is getting ready to say goodbye to Big Time Rush. "It's technically our last season," she continued, but added that she would be open to coming back for more Kelly: "I have one more season in me for sure."
Big Time Rush airs Thursdays on Nickelodeon (check your local listings for specific time and channel). You can also keep up with Tanya on Twitter (@TanyaChisholm).
(c)2013 Brittany Frederick. Appears at Starpulse with permission. All rights reserved. No reproduction permitted. Visit my official website and follow me on Twitter at @tvbrittanyf.