Tanner Foust: On Track With 'Top Gear's' Ace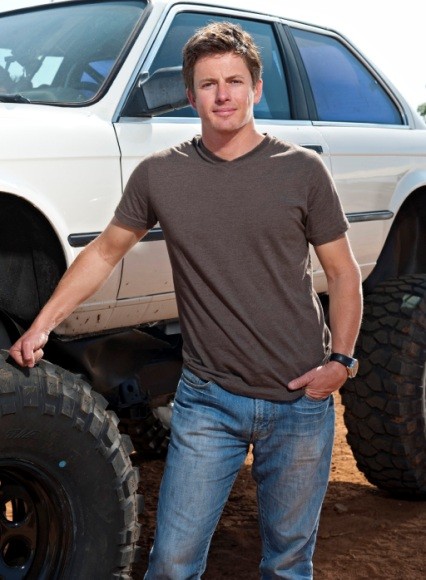 They don't make people much cooler than Tanner Foust.
As one-third of the hosting trio on History's Top Gear, he provides the speed and style, whether he's driving a sharp new sports car, a bus or a cringe-inducing Yugo. Yet that's just his side gig. Tanner's day job is being one of the elite auto racers in the world. He holds a pair of world records, is a two-time champion in both Global Rallycross and Formula Drift, and has multiple X Games gold medals. And when he's not doing that, he's done stunt work on such blockbuster movies as Fast & Furious and The Bourne Legacy. Basically, if it's got four wheels and a seat, Tanner can do something amazing with it.
So what is it like to be Tanner Foust? BFTV caught up with the superstar at Ford Racing's media day just before the start of X Games Los Angeles.
Firstly, you have to learn to manage a lot of simultaneous demands on your time. "They all seem like pretty long days," he admitted, going over a multi-page printout of his schedule just for the two days he was competing in X Games events. "And then Top Gear wanted me to fly out [Sunday]  night to go shoot somewhere else. That was ridiculous." How does he keep up with everything? "I don't know how it works out," he quipped. "I just try to not be late."
When it comes to the big picture, "I've been good this year about really focusing on the season," he added. "I'm really crossing fingers that I'm able to start working this job into a bit of a seasonal thing. Because when it's racing season and Top Gear season at the same time, it's hectic. That can be seven days a week."
Indeed, ask either of his fellow Top Gear presenters where Tanner is at any given moment, and even they probably can't tell you. He could be anywhere in the world, since he's competing in both US and European Rallycross events this season, in addition to contending at the X Games and filming TV episodes. But it's oddly fitting that the guy that makes his living at top speed has a hard time being able to slow down.
He is once again tackling all sorts of unique challenges as part of the upcoming new season of Top Gear, which will begin airing on History next month, on September 3. "There was some fire, potentially. There was water. There was earth, and sky. We touched all gamuts," he revealed. "It's been a wild season. We've done some cool things that I really have always wanted to do." That's saying something about the series that once devoted a whole episode to finding things that Tanner couldn't do.