Talking 'The Voice' With Tim Mahoney
He was one of my early favorites on NBC's The Voice -- and I'm still missing the presence of Tim Mahoney amongst the ranks of Team Adam Levine. The man the show anointed the "King of Almost" dropped by Digital Airwaves on Friday to talk about his time on the singing competition series, working with the Grammy-winning frontman of Maroon 5, and what the future has in store for him.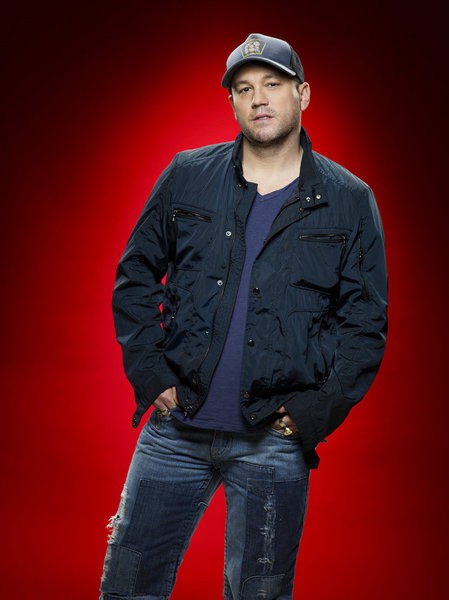 A lot of people have discovered your music now thanks to The Voice, but you've been doing this for a long time now. Walk me through your musical history.
I've been doing it for fifteen years, basically touring around the Midwest. I've got about eight records out. My story that they used on the show seemed a little bit more dramatic than it really is. I've been fortunate to make a living and tour as a musician. I tried out for another TV show a few years ago, Rock Star: INXS, and I went to L.A. and I met a casting director and she called me to try out for this show.
Does being a musician mean that you listen to music differently?
You just kind of listen with a different ear. You go, "Okay, listen to that bass part or let's pick out that guitar part."
What was the day-to-day experience of being on the show like? Obviously there's more going on than we get to see on-camera.
We were out in L.A. for a couple months and basically you have auditions, rehearsals, wardrobe and a lot of dead time. You might not do stuff for four days and then you do stuff for three days. You just never know day to day what's going to happen. I was there probably a whole month before we even taped our first episode.
We're sequestered in the hotel too, so that makes you go a little stir crazy. Being there is kind of stressful, [but] that's the sacrifice you've got to make. Obviously, national TV can change things. It was fun coming home and seeing myself on TV. I felt more like a rock star coming home.

What was it like working with Adam Levine? How much did you learn from him in such a short period of time?
We got to hang out some. We had an interview with him and then we hung out and did some rehearsing. Probably the biggest thing is [that] he was talking a lot about listening to the song and listening [as] a whole to music, before you even start singing, and I think that's some very good advice.
He was talking to me about making the song seem a little smoother, which I think I did, that's why you hear him say [during the battle round], "He listened."
Is he as entertaining as he is during the shows? I think I'm still laughing over how he thought you were a woman.
Totally. He's the same guy off camera. Just kind of playing around. He did a really cool thing too, which he didn't have to do, he gave me a shout-out on Twitter. That was cool.
In that respect, though, it seems like the blind audition process worked in your favor.
That was the PR gift because everybody wrote about it. I was on Access Hollywood and The Soup and all these things. I've heard it before just like he's heard it before. I think the blind auditions definitely played in my favor, also the commercials because they kept playing that part with [Adam] calling me a chick. Now it's just keeping the buzz going.
Let's talk about the battle round. What were you thinking when you were paired with Casey Weston and assigned that particular song ("Leather and Lace," originally performed by Don Henley and Stevie Nicks)?
When I first got paired with her, [since] she was one who came back a second time, I thought that gave me a bit of an advantage. I was shocked at the time as well. Even when I was doing that up on stage, I really thought I'd won. It wasn't that I thought that she was bad, I just felt like I owned it. The truth is, I thought my first performance was like 75%. That performance I felt really strong. I know I couldn't do better.
I talked to Justin Grennan this week after he was eliminated, and he said that he wished he'd been given a different song. Are you satisfied with how you went out, or is there something you'd change?

I don't think I would. I'm not bitter. I don't wish for a different song. Everyone's telling me it's a girl's song and it was in her favor, and I really love this song. It made a great duet. It was the only actual duet.

I do feel that [Justin] kind of did get screwed. He's doing a rock song when he's a soul singer and he's going up against a girl who's a rock singer [Beverly McClellan].

What did you take away from the experience? Did you learn anything about yourself from it?
I definitely think I got better at learning to be able to handle nerves. I've done some big things but not to that level. I've learned there's definitely a lot of other talented people out there; not that I didn't think there were, but it was cool to meet [them] and see other stories out there. You learn about network TV and how it's run.

What feedback have you heard since you were knocked out? At least amongst the people I talk to, you're definitely missed on the show.
When you get across so many numbers, you're going to get so many comments. For the most part the average comment I'm getting is that people thought I had a unique voice, like Cee Lo [Green] said. My fans have started a Facebook page [to bring me back to the show]. I don't know if that could happen.
Of the remaining contestants, do you have a favorite to win the competition?
I think Javier is kind of the front-runner. You never know what factors they're looking for to move forward. It'll be interesting to see the public get involved. I wish some of those people on Twitter and Facebook could've voted.

If you had a theme song, what would it be?
I actually have a song called "Theme Song" on my last record, but it's not my theme song. It's about a party girl. I like the Rocky theme.

What's next for you?
For me, I'm a working musician so I'm doing all my same shows around Minnesota and the Midwest. I just got a call from a producer that is from Minneapolis but became a big-time producer, John Fields, and he wants to do a couple songs with me. In two weeks, I'm going to L.A. to write and record with him. I'm flattered.
My thanks to Tim Mahoney for this interview! For more on Tim, check out his website, and don't forget that you can still buy both of his performances from The Voice on iTunes. The Voice airs its next set of Battle Rounds tonight at 10 PM ET/PT.