Taking You Back To 'Year One': A Spotlight On Harold Ramis

You probably know him best as the deadpan Dr. Egon Spengler, a collector of spores, molds, and fungus, but relatively few know
Harold Ramis
for what he does best: writing and directing.
With his latest directorial effort, the stone-age comedy "
Year One
" coming out today, I felt it was appropriate to pay tribute a man who has been working behind the scenes on some of the best comedies of the past 30 years.
Harold Ramis was born in Chicago, Illinois in 1944 to Ruth and Nathan Ramis, two shop owners on Chicago's West Side. Staunchly loyal to the Chicago area, Ramis has lived there for most of his life.
Speaking fondly of his hometown, Ramis once said, "Chicago still remains a
Mecca of the Midwest
- people from both coasts are kind of amazed how good life is in Chicago, and what a good culture we've got. You can have a pretty wonderful artistic life and never leave Chicago."
In 1966, after graduating from Washington University in St. Louis Missouri, Harold Ramis spent seven months working a rather unusual post-college job as an orderly in a mental institution.
Ramis would later say in an interview with author Mike Sacks that his experience there trained him for Hollywood, "People laugh when I say that, but it was actually very good training. And not just with actors; it was good training for just living in the world. It's knowing how to deal with people who might be reacting in a way that's connected to anxiety or grief or fear or rage. As a director, you're dealing with that constantly with actors."
After his stint working in the mental institution, he moved to San Francisco and married artist Anne Plotkin. By 1968, he was already back in Chicago, where he worked as a substitute teacher and wrote features for the Chicago Daily News. It was during this time he joined Chicago's famous Second City improvisational comedy troupe.
Leaving the troupe, Ramis went on to write as Playboy magazine's joke editor for a couple of years. Replaced by actor
John Belushi
as a cast member in Second City, Harold Ramis worked his way back into the group in 1972, becoming Belushi's comic foil.
Two years later, Belushi convinced fellow Second City cast members Ramis and
Bill Murray
to travel to New York City, where the three worked together on the radio program "The National Lampoon Radio Hour."
Following "The National Lampoon Radio Hour," Harold Ramis became the head writer, and a performer on the late night Second City television sketch comedy series "SCTV." On the show he became famous for characters like the corrupt game show host Moe Green, the amiable cop Officer Friendly, and the home dentist Mort Finkel.
With aspirations of a career in films, Ramis left "SCTV" and teamed up with National Lampoon magazine's Douglas Kenney to write the script for "
National Lampoon's Animal House
." The raunchy fraternity based comedy was an epic hit with audiences, breaking box office records and earning $141 million.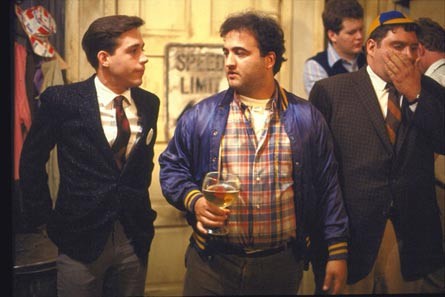 Animal House © Universal Studios Home Video
As a follow up to "Animal House," Ramis wrote the comedy "
Meatballs
" which featured Bill Murray. The movie fared well, and became the first of six films on which Ramis and Murray worked together.
Ramis' third film and directorial debut was "
Caddyshack
," which he wrote with Douglas Kenney and Bill Murray's brother Brian Doyle-Murray. "Caddyshack," like Ramis' previous two films was also a commercial success, and showcased the comedic talents of
Chevy Chase
,
Rodney Dangerfield
,
Ted Knight
, and Bill Murray.
In 1984, Harold Raimis gained notoriety for his appearance as Dr. Egon Spengler in "
Ghostbusters
," the script for which he collaborated on with costar
Dan Aykroyd
. "Ghostbusters" became a box office hit that summer, spawning a sequel in 1989, which Ramis also co-wrote.
Throughout the 1980s and 1990s Harold Ramis continued writing and directing hit comedies like 1986's "
Back to School
," 1993's "
Groundhog Day
," and 1999's "
Analyze This
." "
Groundhog Day
" marked the last movie of his partnership with Bill Murray.
2002's "Analyze That" marked the last film that Ramis both wrote and directed, before taking a six year hiatus from writing screenplays. The only other film he directed after that was 2005's "
The Ice Harvest
."
A phenomenal success with 30 years of experience in the industry, Harold Ramis marks his return to writing and directing today with his latest film "Year One." The movie includes a solid cast of characters led by Jack Black and Michael Cera. As a longtime fan of Harold Ramis and his brand of comedy, I look forward to seeing this film, and I recommend that you see it too.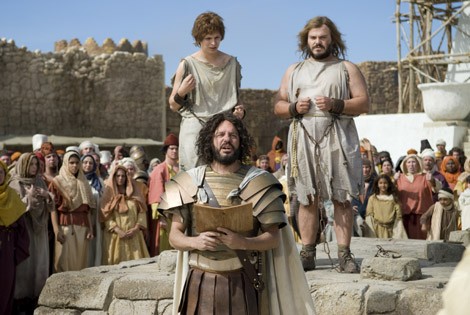 Image © Columbia Tristar Marketing Group, Inc.
Story by Starpulse contributing writer
Evan Crean
, a movie trivia guru and trailer addict with a practically photographic memory of actors and directors. Get a first look at the movies premiering each week, which which ones will be worth your $10, which ones you should wait to rent and which ones aren't worth your time.