'Taking Woodstock' Review: Where Did The Music Go?

What would the Woodstock Music & Art Fair have been like without the music? Most likely: Three days of 500 thousand wet, drug induced concert goers rolling around in the mud. Well, at least the final act of Ang Lee's "
Taking Woodstock
" gets that part right. The festival is very much in full force but, strangely, the actual music is no where to be found. Really, were the music rights really
that
expensive? What "Taking Woodstock" does do is show a microcosm of the entire late 1960's counter-culture movement through the eyes of sleepy upstate New York town of Bethel over a month long period, i.e., there's lots drugs and naked people.
In July of 1969, Wallkill, New York, banned the planned upcoming Woodstock festival -- something about toilets. Elliot Teichberg (
Demetri Martin
) -- who's in town helping his parents run their local lodge -- sees an opportunity to inflate the local White Lake economy (and fill his parents lodge which is about to be foreclosed) by inviting the Woodstock organizers to use his parents 15 acres -- he even already has a permit for an outdoor concert! Unfortunately, the land is unusable. Though, neighbor and family friend Max Yasger (
Eugene Levy
) has plenty of usable land! Unfortunately, he wants $75,000 for his effort. Spoiler alert: The Woodstock festival happens.
"Taking Woodstock" is really a tale of three acts: The first act is the idea of Woodstock taking place in White Lake. The second act is the preparation for the festival as hippies start to arrive, begrudgingly by the town folk. And then... then there's that third act which, at times, could double as deleted scenes from
Oliver Stone
's "
The Doors
."
See, Elliot's a pretty straight laced guy with a good head on his shoulders who's respected by the local community. That is, until he brought them Woodstock. Soon he discovers he's the Jewish outsider that has brought debauchery (!) to Bethel. Oh, and he's gay and doesn't know how to tell his parents. Oh, and his friend Billy (
Emile Hirsch
) recently returned from Vietnam and has flashbacks. Oh, and there's a nudist theatre group that lives in his parents barn. Oh, and his overbearing mother (
Imelda Staunton
) doesn't want him returning to the West Village. Oh, and he has to hire a cross dressing ex-marine (
Liev Schreiber
) as head of security after an attempted mafia shakedown. (Deep breath) You know, with all these (some unnecessary) subplots,
I
was about ready to drop that acid by the 90 minute mark.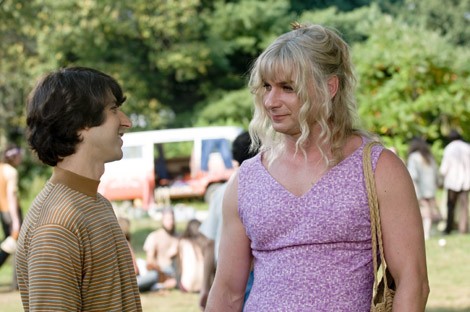 Image © Focus Features Inc.
So, no blame can really be attributed to Elliot for doing just that, right? And I'm sure that was
his
Woodstock experience. Sitting in a VW van with a couple he just met, dropping acid and staring at all the pretty colors -- for what amounts to about ten minutes (!) of screen time -- while, outside, is the most famous musical festival of all time that he helped organize. That was
his
experience, but did it have to be
ours
? It couldn't show
any
of the music? The first two acts of "Taking Woodstock" are a nice and fairly entertaining history lesson, really, but at two hours with the multiple subplots, it runs too long. Again, it's the tale of three acts: The three days are there, the peace is there ... where'd the music go?
Grade: B-

"Mike's Pulse" is a column written by transplanted Midwesterner and current New Yorker Mike Ryan. For any compliments or complaints -- preferably the former -- you may contact Mike directly at miker@starpulse.com
or submit reader questions for celebrites to Mike on
Twitter
.

Subscribe to this author's RSS