Taking Back Sunday Plan Hurricane Sandy Benefit Concerts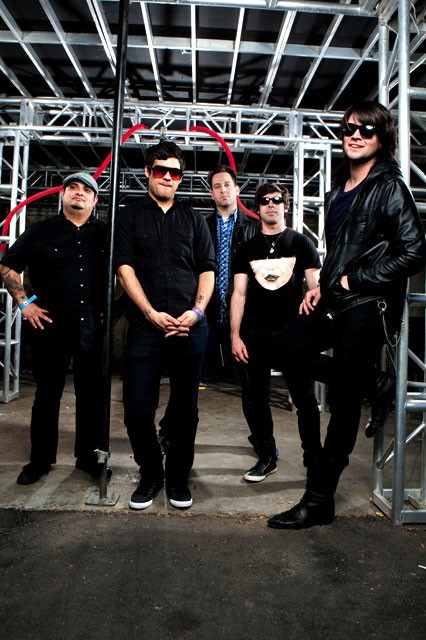 Taking Back Sunday are set to stage two big benefit concerts in New York and New Jersey to raise funds for ongoing Hurricane Sandy relief efforts.

The group was due to perform two sold-out shows at New Jersey's Starland Ballroom on Friday and on November 25th, but the band will now combine them into one huge gig at the Pine Belt Arena, on the campus of Toms River High School North for the latter date. All tickets from the Starland Ballroom event will be honored at the new location, which will now also feature fellow rock artists Bayside, The Menzingers and Kenny Truhn.

Meanwhile, Taking Back Sunday will head to the Big Apple's Best Buy Theater later this week to headline a similar fundraiser.

Bassist Shaun Cooper says, "We're devastated to see all of the damage this natural disaster caused in our community and the communities around us, but it is always inspiring to see people come together and push forward. We're making the best of this difficult situation.
 
"Thanks to the fans for the continued support and understanding why these changes needed to take place. We would also like to thank the Starland Ballroom for helping coordinate these efforts despite being located in an affected area."

Both shows will see the stars celebrate the 10th anniversary of their breakthrough album Tell All Your Friends by performing it in its entirety.

A portion of proceeds from the New Jersey date will be donated to the Toms River Hurricane Sandy Relief Fund, while 100 per cent of net ticket prices at the New York concert will benefit recovery efforts in and around several bandmembers' native Long Beach, New York, one of the hardest-hit areas during last month's natural disaster.

Taking Back Sunday aren't the only celebrities helping to boost funds for Hurricane Sandy aid - Justin Bieber has also pledged to donate a portion of funds from his current tour, while Lady Gaga has handed over $1 million to the American Red Cross.