Taio Cruz Named Songwriter Of The Year At Glitzy ASCAP Gala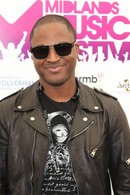 Taio Cruz has picked up the coveted Songwriter of the Year and Song of the Year accolades at the 31st annual American Society of Composers, Authors and Publishers Awards in London.

Cruz's hit "Dynamite" was named Song of the Year.

The British-born star was awarded ASCAP's Vanguard Award last year and this year it was rapper/singer Plan B's turn.

Singer/songwriter Paloma Faith was honored with ASCAP's College Award for her platinum-selling debut album "Do You Want the Truth or Something Beautiful?" and songwriting legend Hal David was feted at Wednesday's Grosvenor House gala.

A tribute to David, in celebration of his 90th birthday, featured Madeline Bell, Roger Greenaway and Albert Hammond Jr..

It's shaping up to be an amazing year for the veteran, who turned 90 in May - last month, he was honored with a star on the Hollywood Walk of Fame and he'll receive the Library of Congress' Gershwin Prize for Popular Song early next year at an all-star tribute in Washington D.C.