'Tabatha Takes Over' Recap: Yogurt, Coffee... And Liver Snaps? Oh My!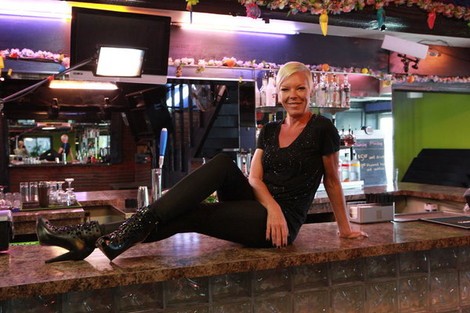 The takeover continues this week into the land of yogurt. Tabatha travels to Ventura, Ca, to 'Chill' beachside. Built on the love of the frozen treat, owner Sandy's dream is slowly crashing along the coast. Just 18 months in business and already $90,000 in debt, Sandy desperately needs Tabatha's help.
It takes the queen of styling no time at all to figure out the source of the problem: Sandy. During the interview we learn that of three local businesses owned by Sandy and her husband, 'Chill' is the only one not performing. It is also the only one actively 'managed' by Sandy. A bar, run by her husband Jim, is flourishing. A pizzeria, managed by Jim's daughter, who is a chef, is doing great. While each of her family members slave away at their respective business, Sandy is in and out of her passion shop in thirty minutes or less. While she is gone, she leaves Lauren, an inexperienced manager at the helm. To further the trouble, the yogurt concept has steered way off course leading 'Chill' into coffee, pre-packaged foods (that are often expired), dog treats, as well as a slew of 'prank' items for sale. Of course the real issue lies in the most prized possession, the yogurt. The soft served desert is more sour than sweet. 'Sandy doesn't give a rat's ass about quality control or anything else in her business,' screams Tabatha. At one point during inspection, Tabatha actually spits out her tastings and wipes her mouth with a napkin.
After the inspection, Tabatha realizes Sandy's lack of focus and rotten yogurt are causing the downfall of her business. In denial that yogurt is not the key to success, Tabatha sets up a taste test of 'Chill' coffee and yogurt for patrons to decide. When the resounding answer is coffee, Sandy finally relents. It is then that Tabatha decides to drop the fro yo from the menu, illicit the assistance of the chef step-daughter and transform the shop into a 'Chill' coffee oasis. Also on the menu are fresh to made sandwiches and a wifi-bar. In addition, Tabatha adds a new manager to the crew, since Lauren is slow and unorganized on opening day. 
In the end, it is family support, a reorganized structure and a solid backbone from the owner that highlights the success of this takeover.
'Tabatha Takes Over' airs Tuesday's at 10 on Bravo.