'Tabatha Takes Over' Recap: Legendary Complacency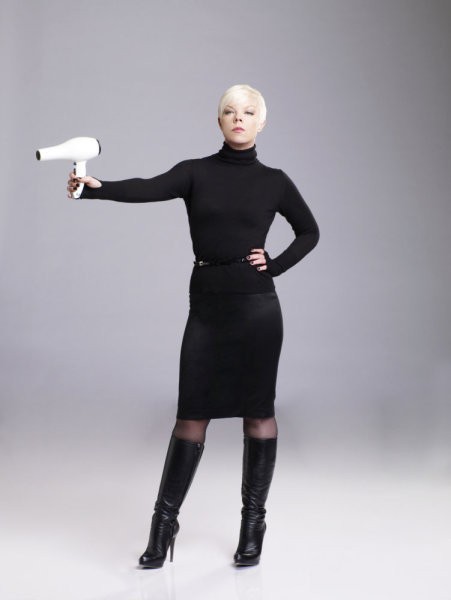 Tuesday evening's episode of 'Tabatha,' really pulled on the heartstrings. The takeover took us to Torrance, Ca to salvage what was left of the famous Flavio Beauty College. Once a highly respected institution lead by Dr. Flavio, the beauty college is now at an all time low of attendance; run-down and otherwise in a dire state. After almost sixty years in business, Flavio is in danger of losing his home and at 85 that is not an option. 
Fueled by her respect and admiration of the passion and dedication of Dr. Flavio, Tabatha goes into high gear to set the college back on the path to success and to keep Flavio in his home. Immediately Tabatha recognizes the problem is the lack of management and complete complacency of upper management. Flavio's daughter, who now manages the college, never leaves her office and knows nothing about the business. The teachers are out of touch will current techniques and don't give their students an opportunity to vocalize or utilize their skills. Especially Mr. P (what kind of name is that? Just saying!) who gives clients and students a horrible experience of color and styles, leaving one student crying.
It strikes Tabatha that the only way to break through to the staff, is to show and remind them of what the experience should be. What better way than to take them to the Mecca of hairdressing and cosmetology - The Paul Mitchell Institute. Initially hesitant, the team (mostly Mr. P) finally relents when they see all the new techniques and styles they are unaware off. 
The other component of future success and increased enrollment, is for Flavio's daughter and manager to become cognizant of the business and what's at stake. Per the queen hairdresser's unique style of therapy, she packs up Dr. Flavio's bag and heads over to his daughter's house. Shocked, Tabatha tells the daughter, unless she becomes engaged and committed, the reality is her father will be living with her. Struck by the intensity of the situation, the light finally comes on and the daughter is ready. She even suggests getting her own license so she is fully connected to the business! Bravo!
The highlights of this episode were really Dr. Flavio. He may be 85, but he is a smooth criminal: flirting with Tabatha, cursing and constantly bowing. Hang around Dr. P, you're pretty amazing, even got Tabs to smile and freely give out hugs. You really are a legend! 
In the end, business is on track to keep Dr. P in his home and in business. Good work Tab!
'Tabatha Takes Over 'Airs Tuesday's At 10pm On Bravo.