'Tabatha Takes Over' Recap: Georgia Pits And Peaches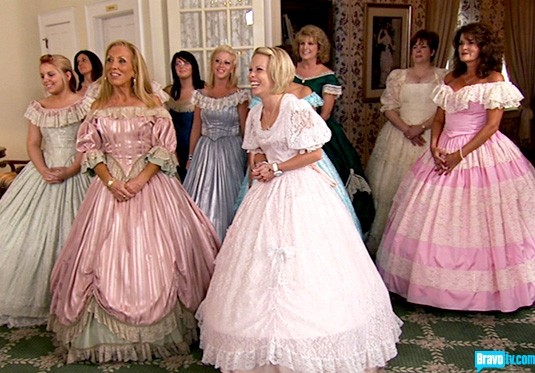 On the latest installment 'Tabatha Takes Over,' our favorite stylist takes us to the Deep South: Douglasville, GA. While the South is known for its hospitality and high tea with the Ladies, Tabatha finds much to the contrary at 'Pat's Hair Shoppe.'
Pat, who has owned her shop for more than twenty years, is near a nervous breakdown after over ten of her long time stylists walked out on her just six months ago. Directly prior to that event, the struggling owner had just expanded her business into the shop next door. With few stylists and an onset of rumors from her former staff, rent was becoming more and more difficult, and she was forced to close her new space. Now, emotionally and financially insecure, Pat calls upon Tabatha to save her business.
During the first few segments the fashion-forward hairdresser is blown away at the hodgepodge of services, crew, and ambiance. During the owner's expansion, Pat hired on many new stylists (which was one reason many veterans left), but did nothing to improve education in the salon. As a result, each of the Southern Belle's are on different pages and providing different services, making the Shoppe inconsistent. Taking that inconsistency a step further is the decor. Slabs of various paint color's all are over the salon, as well as sheetrock, where the devastated owner closed entrances to her additional space. To further the problems of this Georgia pit is the service itself.
While once a beautiful peach, the team has become complacent with their clients. The staff expects clients to dry their own hair or worse, stay with their current hairstyle forever. Even Pat herself no longer provides consultations to her repeat clients. Never without a trick, or bobby pin, up her sleeve, Tabatha takes the motley crew to an old fashioned high tea for an etiquette lesson. The ladies must don full skirted dresses from the 1800's and learn to listen and provide good ole fashion service again. 
Then, in a rare share of the scissors, Tabatha tells Pat she also had a huge walk out in her famed salon. After two days in bed, she realized she still had a business and a team to lead. Pat realizes she must step up to the veranda or she is going to lose her team. With new found confidence, and as always a remodel, Pat is determined to make her Shoppe the prize of Douglasville once more.
'Tabatha Takes Over' airs Tuesday's at 10 on Bravo.