T-Pain's Skydiving Birthday Surprise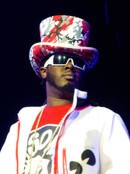 Rapper T-Pain was taken on a mystery trip by his wife as a birthday treat on Thursday- and was stunned to discover she'd organized a skydive and private strip club visit.

The I'm Sprung hit-maker turned 26 on Friday and to mark his big day, partner Amber arranged for a driver to pick up the star from their home.

Keeping his fans updated in a series of posts on his Twitter.com page, he writes, "So the wife had a phantom pick me up. As of now I have no idea where I'm goin but we have been on the highway for a good while now. I'll keep you guys posted."

T-Pain realized his surprise was a skydive after arriving at an airfield, and told his fans, "Might be the scariest birthday surprise ever. Best wife on earth."

The star then posted a picture of himself and Amber wearing their safety harnesses, and after the jump, he declared, "We're back. Still alive. Thank you baby."

And the skydive wasn't the only surprise Amber had planned for her husband. T-Pain later added, "My wife surprised me and rented out a whole f**kin strip club. How about that. Get yo marriage game up. Learn how to please your man ladies and he won't have to go nowhere else to get taken care of. I'm smilin like the grinch in this motha f**ka."