'SYTYCD' Recap: Lady Gaga Adds To A Great Night Of 'Dance'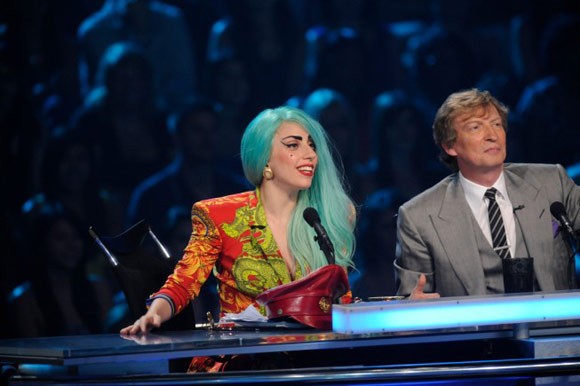 There were so many great things to say about the Lady Gaga guest hosted episode of "So You Think You Can Dance," that the megastar's warm presence was simply the icing on an already delicious cake. Nonetheless, major props to the pop icon for actually recognizing that and being comfortable enough in her two foot-plus high heels to  (for the most part) cede the spotlight and celebrate the show's contestants as the stars of the night.
A truly classy Lady, that Gaga… and a damn fine guest judge who critiqued each performance with a balanced mix of encouragement and constructive advice. Sure, it was a little awkward to hear her insult perennial SYTYCD choreographers, Tabitha and Napoleon at every turn, but against the night's more inspired offerings, their modern hip hop routines did feel a bit like retreads of past triumphs. "Take a Bow" was no "Bleeding Heart" --- even though it wanted to be. But I digress…  
To take a note from Gaga, let's turn the focus back to some of the greatest dance moments of the night, season, and to recent history of the always wonderful series. Yeah, it really was that good…
Among the highlights:
Melanie's Heartstopping leap in the Mandy Moore choreographed "Total Eclipse of the Heart" routine? I How many times did you rewind your DVR and rewatch that?!? I'm watching it again now. Hold on. Wow. Just WOW.
Marko's Dance for Mom – The emotional power of the Sonja Tayek choreographed "I Know It's Over" was enough to reduce Lady Gaga (and pretty much everyone else with a heartbeat) to tears. Marko and SYTYCD All-Star Allison communicated such a raw, real, and effortless intensity throughout the piece that the revelation of Marko's mother in the audience seemed like something we knew all along. The look on her face and Marko's subsequent message to her from the stage continued to elevate a moment that like Nigel said, simply transcends the "talent competition" aspect of the show.  ** And how great was that fly that settled on Lady Gaga's red cap as she was expressing what seemed like a genuine connection to the material? The insect added a perfect dash of levity and humor to the saccharine moment.
Melanie and Sasha's Finale – Lady Gaga took off her shoes after Sonja's mini-me beasts killed it during the last performance of the night. The 'Born this Way' singer had offered Melanie a job dancing on her tour earlier in the night and after this number, she was really jonesing to pull the girl out of this whole contest and give her a contract and a plum solo during a costume change. Somehow even the personal plug for her album (/ideology) seemed more like true inspiration than shameless self promotion. When was the last time that happened?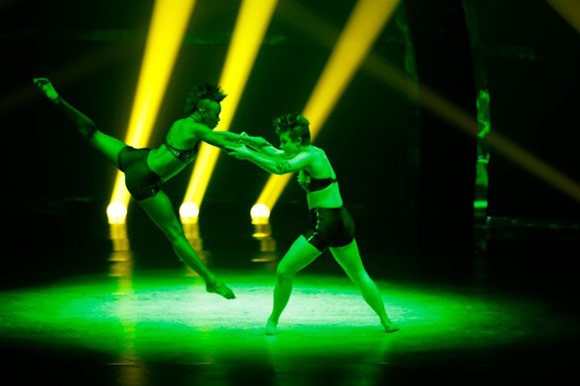 Killer Playlist – Great songs make for great dances. "American Idol" taught us long ago that song choice is everything and this show had a pretty great soundtrack that included "River Deep, Mountain High," "Take a Bow," and a toe-tapping instrumental in "Puttin' on the Ritz." You can almost forgive the choreographer who guided Jordan and Jess into a chemistry-free rumba set to Adele's "Set Fire To The Rain" simply because the track is so wonderful and who wouldn't delude themselves into thinking it might sorta kinda maybe work. No? Well, just imagine that whole dance with a lesser song… those kids wouldn't stand a chance. *** Speaking of Jess, in the unintentionally great (aka humorous) category, we've got the unfortunate timing of Rob Marshall referencing his boyhood stint in Who-ville as part of the cast of "The Grinch" … on the same week that he took Neil Patrick Harris' advice and toned down the "jazz hands" faces that alienate even the biggest of Broadway fans.
The All Stars were amazing fan favorites… from Neil and Lauren Froderman to Allison and Pasha 
And so were the choreographers… Mandy Moore… Sonja… Tyce Diorio… NappyTabs (not Gaga's thing… but they still make the list!)
Honorable mentions – Ellen and Portia in the house! Rob Marshall is an oompa loompa?!?
Yeah, Lady Gaga brought the good. And so did everyone else! All in all, a great night of dance. Do you agree? Let us know in the comments!