Sylvester Stallone: ''The Expendables 2' Will Be Rated R'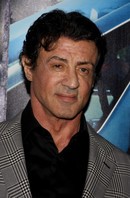 Sylvester Stallone has abandoned plans to make his sequel to The Expendables more family-friendly by toning down the violence and bad language.

It emerged in January that the Rocky star was eyeing a PG-13 rating for the action movie amid rumors cast member Chuck Norris had requested no cursing in the script.

Fans of the first film feared the development meant the hard-hitting movie would be toned down for a younger audience - but Stallone, who writes and stars in The Expendables 2, has now revealed the sequel will have a restricted 'R' rating after all.

He tells the StalloneZone website, "After taking in all the odd rumors and hearsay, Expendables 2 is an R."