Sylvester Stallone Made No Money From 'Rocky Balboa'

Sylvester Stallone is glad his sixth Rocky movie salvaged his film career - but he made no money from the film's $200 million profit.

The Hollywood legend boosted his dwindling popularity by revisiting his most famous franchise for a final installment, Rocky Balboa, in 2006. The bold move worked, and he went on to make a fourth Rambo film in 2008 before teaming up with fellow big-screen action men Bruce Willis and Mickey Rourke for new movie The Expendables.

And Stallone is adamant making the 2006 boxing picture was a wise decision - even though he has not banked any of the film's enormous profits.

He tells GQ magazine, "I haven't seen a dime yet. (It made) nearly $200 million. That's life, eh? That's how it works these days. They have this thing called 'back end'. Or 'Watch my back end move into the horizon as you lie there, shackled in naivety.' You can make a movie for $12 million that makes $250 million, but it still ends up in the red. The studios say they added $50 million in publicity in the Ukraine or somewhere, and you're like, 'What?'"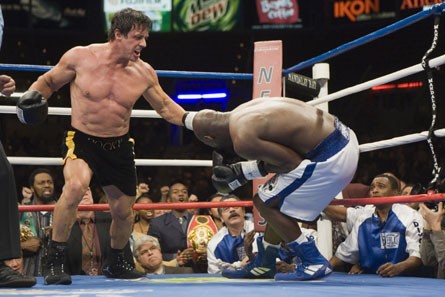 Click Here For More Sylvester Stallone Pictures