Sylvester Stallone And Mike Tyson Enter Boxing Hall Of Fame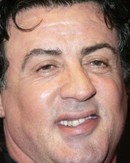 Hollywood tough guy Sylvester Stallone and legendary fighter Mike Tyson were inducted into the International Boxing Hall of Fame on Sunday for their services to the sport.

Stallone, who packed the punches in six Rocky movies, was honored for his famed film series at a ceremony in Canastota, New York and he thrilled spectators at the end of his acceptance speech by reciting the movie boxer's famous line, "Yo, Adrian, I did it."

Former world heavyweight champion Tyson was also among the honorees and stunned the audience by giving an emotional talk about his career and breaking down in tears as he remembered his late mentor Constantine 'Cus' D'Amato.

Tyson struggled to complete his speech and bowed out early, saying, "I can't even finish... thank you... thank you."

Other honorees at the ceremony included Mexican boxing legend Julio Cesar Chavez and Kostya Tszyu.