SyFy's 'Sharknado' Is A Huge Hit -- On Twitter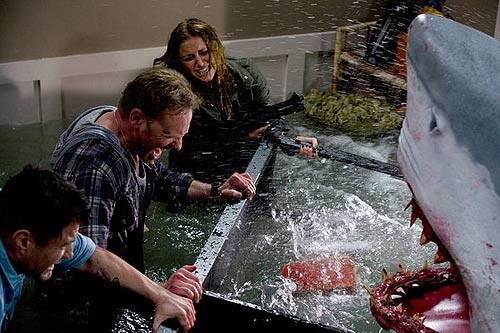 Thanks to the magic of Twitter, Thursday night's epic SyFy schlockfest "Sharknado" became a huge trend, but don't expect it to be a hit in the ratings.

The twitterverse was buzzing with anticipation for the campy horror flick, about thousands of sharks migrating up the Pacific coast because of a hurricane, only to meet with tornadoes formed in the nearby desert and get sucked into the twisters and then dropped all over the Los Angeles area to wreak havoc... and eat lots of people.
And parts of people.
Ian Ziering and Tara Reid turned in some of their best on-screen performances (not), which can be sampled in the insane trailer for the creature feature below:



Celebrities joined in on Twitter to tout the movie -- but despite all the buzz, nobody REALLY watched it.

SyFy's last original horror flick, "Chupacabra vs. The Alamo," which starred Erik Estrada (Erik Estrada!) and premiered on March 23, had only 1.4 million total viewers and less than a half-million in the coveted adult 18-49 demographic. That film didn't have as much buzz, but it still doesn't bode well in the ratings department.

The unlikeliest pair of viewers (who really didn't watch it) were actress Mia Farrow and novelist Philip Roth. Farrow tweeted a photo of the two friends with the caption "We're watching #sharknado" about halfway into it, but she used a photo from weeks ago and the tweet was pulled shortly after. It was just a joke.

But other stars actually watched it.

Mythbusters scientist Grant Imahara wrote, "Sadly, the most unbelieveable part of #SharkNado: NOT ENOUGH LA TRAFFIC"; while Star Trek: The Next Generation star Wil Wheaton said, "I'm not so sure about the science in this movie you guys."

Speaking of myth-busting, Cedar Rapids, Iowa, weatherman Justin Gehrts replied to Wheaton, joking that a Sharknado could actually happen. "The science is impeccable," he said. "I'm a meteorologist, I would know.

Well that explains why weathermen can't seem to get the forecast right.

(Star Trek segue) Star Trek Into Darkness screenwriter Damon Lindelof promised to write the (totally inevitable) sequel. "I am going to write the Sharknado sequel and I am going to do it before Shaknado is over," he wrote.

In the words of Twitter user @RachelHeine: "It's a great week for film, people!" Why is that? Well, because "Sharknado" and "Pacific Rim" just came out on the same weekend.
fin.