Syfy Reveals 'Sharknado 2' Title & Release Date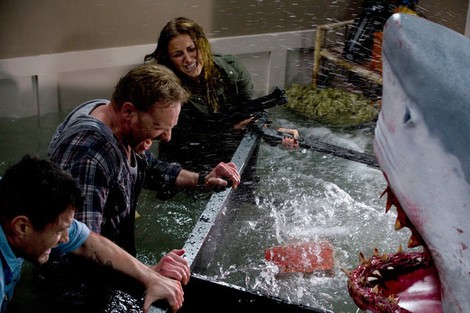 The people have spoken! Five thousand fans helped decide the title of the highly anticipated "Sharknado" sequel via Twitter, and the winner is - "Sharknado 2: The Second One."
When the made-for-television film first aired on Syfy in July, only 1.4 million watched, but there were more than 5,000 tweets-per-minute about the B-movie on the night of its debut, grossing over 604,000 in total.
Buzz for the film was so intense, Regal cinemas even hosted midnight screenings of "Sharknado" on over 200 screens on Aug. 2.
The first film centered on Los Angeles where a tornado picks up a school of hungry sharks and sends them flying through the air. The man-eating storm wreaks havoc on a small town that becomes the site of a feeding frenzy.
Stars Tara Reid and Ian Ziering return for the sequel, which will be set in New York City and will air in July 2014.
Reid told U.K. newspaper the Sunday Mirror about making the film: "I read it and I was laughing so hard because it was the most ridiculous movie I'd ever heard of. It was so insane."