Syesha Voted Off 'Idol,' David & David To Face Off Next Week

The road to the final two on TV's most popular show "
American Idol
" has finally arrived. Tuesday night's round of performances featured the final three contestants performing three songs: a judge's selection, a contestant favorite and a producer's choice. It was make it or break it for the final three. Who would end up in the finale?
Just in case you missed it, here is Tuesday night's recap: Little David sang "And So It Goes" by
Billy Joel
, a song selected by
Paula Abdul
. The performance was predictable but yet still good enough to keep him alive. As for his song choice, he chose
Chris Brown's
"With You" in hopes to bring back the contemporary music vibe. Not a song I would have chosen, especially since it didn't do justice to his amazing talent. His last song chosen by the producers was "Longer" by
Dan Fogelberg
. Never heard of the song, but it was good. All things considered, he definitely deserved to be in the show's finale.
Randy Jackson
chose
Alicia Keys
' "If I Ain't Got You" for Syesha's first song. Despite her singing the song just as well as the original artist, I have to agree with
Simon Cowell
. It would have been smarter for Randy to choose a song where Syesha wouldn't have been compared as much to Alicia. As for her saucy rendition of "Fever" by
Peggy Lee
, I loved it. The chair prop was an excellent idea. Too bad the judges weren't as won over. The producers chose "Hit Me Up" by Gia Farrell, a song off of the
Happy Feet
soundtrack. Whose ever idea it was to choose this song should be fired. Definitely was not a song that showed Syesha's true singing ability.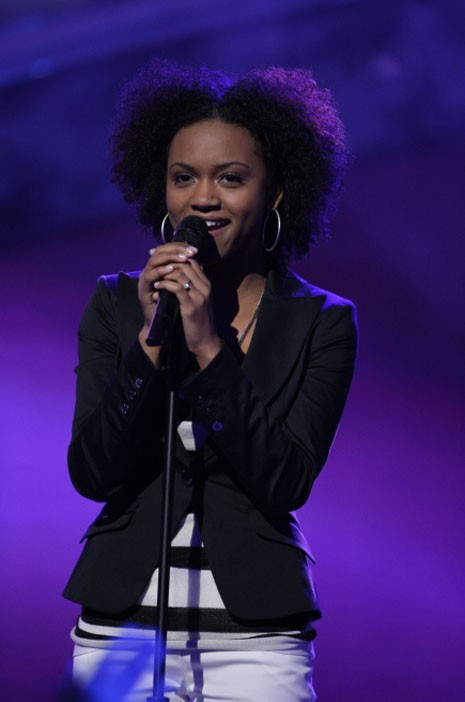 David Cook took the stage and sang Simon's choice of
Roberta Flack's
"First Time Ever I Saw Your Face." While it wasn't my favorite performance, I loved that David could again take a song sung by a female and make it his own. That shows a true star. Hands down, loved his version of
Switchfoot's
"Dare You to Move." Agreeing with Paula, I was definitely aching for more. At least the producers got his song choice correct when they chose
Aerosmith's
"I Don't Want to Miss A Thing." What an excellent, fulfilling way to close out the night.
Wednesday night's hour-long elimination show began with the group's collaborative performance of "Ain't No Stopping Us Now." It was nothing spectacular, but how sensational can you get with only three people left? "American Idol" winner season three,
Fantasia Barrino
returned to the stage to sing the song "Bore Me." Ironic that it's named that. Her trashy pink hair coupled with her shrieky vocals led me to wonder how in the world she was able to capture the "American Idol" title. After her performance ended (unfortunately, not quickly enough), Simon's facial expression said it all. Absolutely priceless.
Saving the results for the end of the show,
Ryan Seacrest
led everyone to Murray, Utah for a glimpse into David Archuleta's hometown experience. Unsure of what to expect, David found himself trapped in a sea of screaming high school girls and a mob of cheerleaders from Murray High School (who probably didn't even know his name pre-Idol). His performance in front of thousands of elated fans brought him to tears and elicited a round of thank yous. One of the more priceless moments came when he questioned where all of his fans parked.
The sensational and gorgeous Syesha Mercado was up next. Arriving back in her hometown of Sarasota, Florida seemed to be emotional moment for the young singer. While traveling around town babies were thrown at her, pictures snapped and chants of support wafted through the air. She performed in front of her biggest fans and even received the opportunity to experience a helicopter ride.
David Cook was the last to come out onstage. "American Idol" fans watched as the rocker headed back to Blue Springs, Missouri where he was bombarded with crying, yet ecstatic fans. His performance moved many as well as himself. He then headed over to his former elementary school to surprise his music teacher for inspiring him to follow his passion in the music industry. For any sports fan, one of the most memorable moments for David must have been throwing out the first pitch at a Kansas City Royals game. After the tear-jerker clip, David explained his journey on "American Idol," stating that he originally attended the auditions to support his younger brother, Andrew.
As millions of people held their breath across the nation, Ryan Seacrest announced the heavily predicted finale: David Archuleta vs. David Cook. The graceful Syesha Mercado, void of tears, thanked her loyal fans and sang one last time. That's okay. She's got a one-way ticket to Broadway waiting for her when she gets home. America, this is it! You have chosen for a David to take home the crown. Which one is it?
-
Tons of 'American Idol' Pictures!
Story by
Kathryn Sparks
Starpulse contributing writer