Switchfoot To Release Sixth Album, "Oh! Gravity," December 26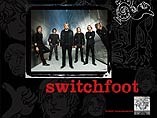 Switchfoot
releases long awaited video of the hit single "Oh! Gravity" off the highly anticipated new album of the same name due in stores December 26, 2006. The video was premiered last week on Yahoo! Music and then immediately added to the Switchfoot website. In anticipation for the new album the band has revamped their website, http://www.switchfoot.com and their MySpace page http://www.switchfoot.com/myspace. Fans also can pre-order the new album online and receive three bonus songs.
Switchfoot, a San Diego based modern rock band released their fifth album
Nothing is Sound
in September 2005 with the debut single "Stars." The album was recorded almost entirely on the road in dressing rooms in between gigs, while the band performed over 400 shows in the last two-years selling over 1.5 million tickets.
Oh! Gravity
is the band's 6th studio release; it's produced by Tim Palmer (
U2
,
Tears For Fears
,
Tin Machine
,
James
) and Switchfoot. The album is executive produced by Grammy-Winning Producer of the Year Steve Lillywhite, who also helmed the track, "Awakening." All songs on the album were written by frontman Jon Foreman and Switchfoot.
Go to
Switchfoot's Starpulse Page
for lots more, including photo gallery, bio, and more!