Swimming In ABC's 'Shark Tank'
We saw sparks fly last season when Cuban entered the Shark Tank and took his fellow investors head-on. ABC is looking to shake up the chemistry once again as Lori Greiner makes her debut in season three (her first episode airs February 10). I sat down with Lori to find out what she brings to the Shark Tank.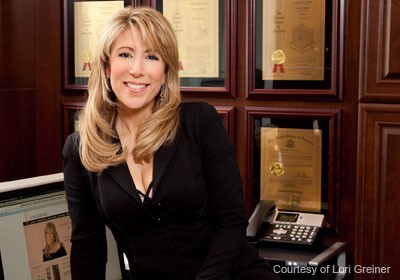 You have a degree in Communications, specifically Television & Film. Did that help you at all?

I think it helps me more in writing and editing and being precise in things that I do. I'm a big believer in less is more. I think that background has helped me mostly in editing, whether it's in my business emails or talking about products.
Of course, everyone's going to speculate on why you belong in the Shark Tank, but what do you think are the reasons for your success?
I think the main thing is that I have the attitude that anything is doable, that I can make anything happen. I think that's number one, drive. And then that goes along with having a very positive mental attitude.
Was there anyone who was particularly influential in making you successful?

 I would have to say my father. I admire my father and grandfather who both had that same attitude.
How did you get approached to do Shark Tank and what motivated you to say yes?
The casting director for [executive producer] Mark Burnett's office called. They felt that I was perfect for the role. I went out there and met with Mark. I admire and I like him very much, as I do everybody else I've met and worked with. He agreed with her and that was what really started rolling.
I also agreed because it's exactly what I do. I'm exactly like the entrepreneurs who come before the panel. I know exactly what they feel like, and exactly what it takes, and I have the power and knowledge and ability [to help them].
How has being on the show compared to your expectations about it?
I think [it was] a lot more fun. I don't think that I knew what to expect. I think that it was really fascinating. I did some Shark Tank firsts.
Has the experience changed your personal outlook on business at all?
 No, I think it makes me more aware and present in my business to want to give back and help others. I've always had that attitude and I think it just makes me very present in the moment with that.
Is there a fellow Shark that you particularly admire or enjoy watching? One that you hate to go up against?

I enjoy them all for different reasons. A lot of them are very funny. They make me crack up. They're brilliant. They're tough negotiators, so therefore I had to be a tough negotiator. It was also fun to kind of spar with them. We're all up against each other in a way. I found that engaging and interesting.
I would say none of them intimidated me or worried me. I was fine going up against any of them. I look at person for who they are, not what they have. What matters to me is who are they, who were they as a person. I knew my background and I knew my strengths, and I knew that I knew what I was talking about. I guess I went in very confident.
What have you most enjoyed about being on the show?
I found it to be a lot of fun. Fascinating Sharks, fascinating entrepreneurs. I like the whole concept of being able to give back. Doing more of what I do.
What shows do you watch?
Right now, my latest obsession as far as shows, I love Revenge. I am really into Mad Men. I started watching that just this year. I love The Good Wife. Those would be my top three. I tend to watch a lot late at night and TiVo.
My thanks to Lori for this interview! For more about her, visit her website, Twitter or Facebook. And here's a sneak peek of her in action - as well as what else you can expect from season three of Shark Tank!
(c)2012 Brittany Frederick/Digital Airwaves. Appears at Starpulse with permission. All rights reserved. No reproduction permitted.