Swimming In ABC's 'Shark Tank'
ABC's Shark Tank opens tonight at 8 PM ET/PT - and before you step in, get the inside dish plus meet the newest Shark, Lori Greiner!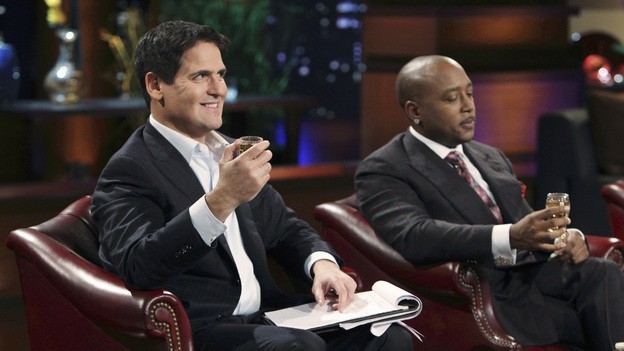 Now in its third season, Shark Tank brings hopeful entrepreneurs face-to-face with a panel of potential investors, or "sharks," that could make their business aspirations a reality...if they can be convinced. Sometimes, it's a chance for us to watch someone's dream come true. Other times, it's painful to see them crash and burn.
I recently visited the set of Shark Tank to check the waters out for myself, and here are a few things you might not know.
1. Those are not real sharks in the background. In fact, none of the aquariums you see in the hallway are real; they're all video monitors. You didn't really expect ABC to pay for a live shark, did you? The metaphorical ones are expensive enough!
2. But the metaphorical ones have real chemistry. It's not all cutthroat in the Shark Tank. Throughout our interview session, the five Sharks in attendance bantered and bickered with one another. They obviously enjoy each other's company and have a respect for one another's accomplishments.
3. It's smaller than it appears on TV. The show is actually shot on a soundstage on the Sony Pictures Studios lot (the same studio where shows like Jeopardy!, Wheel of Fortune and NBC's The Voice have taped). The boardroom set is not quite as spacious as it looks, but it still looks a lot nicer than your living room.
4. Controlling your nerves may be the secret to your success. "People walk in there and...all of them, you can just tell, are really nervous. Sometimes it goes in a good direction, and sometimes they just lose it," said newest Shark Mark Cuban. "That's when it gets bad, or interesting, depending on how you look at it."
"If you start crying, Barbara [Corcoran] will give you money," joked Kevin O'Leary, who seriously added, "I never get emotionally involved. I'm being a disciplined investor versus an emotional investor."
"I think he's so off," disagreed Barbara. "I never focus on the money, I focus on the individual."
5. You need to have a plan. "Sometimes people come out and ask for money with no real plan for what they're going to do with it," said Robert Herjavec. "You're telling us what you need, not where the business is going to go."
6. The competition is getting tougher. Now that the show has been on the air awhile, "People coming in to pitch us are far more educated," Mark said. "And they get to know us, which makes it more challenging," added Robert.
7. It's not entirely about the money. "None of us ever have to work again. The money doesn't really matter. It's how much effort you're going to put into it," Daymond John said.
"We want to see if there's an opportunity to create jobs. Can we contribute in a way that's very positive?" Mark continued. "You can't ever do charity, because it always turns into a loss, and people end up getting hurt. It only just delays the inevitable. But when we can take a business that can't go to a bank and allow them to get back on their feet, or allow them to acclerate their growth, that's important to us."
He added that he'd like to invite President Barack Obama to come down to the Shark Tank and see what these small business owners are going through.
8. You only get one shot. "Soon as they walk past those doors, if I haven't invested in them, they're dead to me," said Robert. "It's like thinking about your sixth-grade girlfriend. What's the point? They're gone," Mark said.
9. The show is adding another new Shark. Last season, we saw Dallas Mavericks owner Cuban and comedian Jeff Foxworthy join the fold. This time, it's entrepreneur Lori Greiner, a familiar face to anyone who watches QVC. Who is she and what was it like for her to come aboard? Read on for my interview with Lori!