Swedish Protesters Welcome Chris Brown To Country - With Photos Of Beaten Rihanna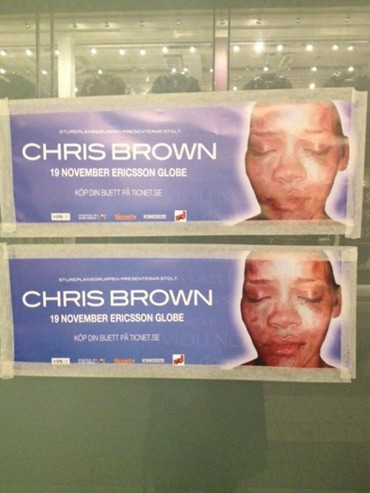 Some citizens of Sweden are protesting Chris Brown's November 19 concert in Stockholm, Sweden, by putting up posters of Rihanna's beaten face.
Ajour reports an unknown group has put up posters around the city to warn would-be concert goers of Chris Brown's legal past. The leaked police photos of Rihanna's beaten face are featured prominently. 
It's not the first time Chris Brown has been criticized in Europe. Irish group The Original Rudeboys refused to open for him at a recent concert, citing the attack. In England, a group put stickers on his most recent CD, warning shoppers not to buy his albums because he beats women.
@sweden, the country's official Twitter page, allows a citizen to control the account every week. Jenny, who was in control, posted the above photo.