Suspect In Death Of Charice Pempengco's Father Surrenders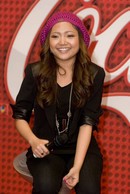 The man suspected of killing Charice Pempengco's father has surrendered himself to police in the Philippines.

The Glee actress' dad Ricky Pempengco was hacked to death at a store in the town of San Pedro on Monday. Cops subsequently launched a manhunt, while Pempengco appealed for help in catching her father's killer.

Construction worker Angel Capili, Jr. turned himself in to officials in the township of General Trias on Thursday and allegedly claimed he had acted in self-defense, according to the Associated Press.

Capili is said to have told reporters, "I had really planned to surrender because what I did was wrong. I am seeking forgiveness from the family left behind by Mr. Pempengco... I am prepared to suffer whatever is the judgment."

The country's Interior Secretary Jesse Robredo also spoke with Capili and tells ABS-CBN television, "He was claiming that he was already backing away but then (the victim) continued to attack him so he got a screwdriver and he stabbed Mr. Pempengco. We will compare the account of witnesses with the account of the suspect."