Susanna Thompson Shines In Season 2 Of The CW's 'Arrow'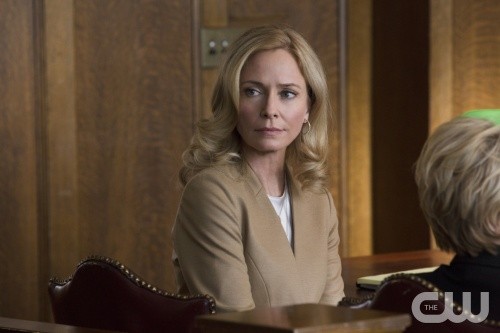 The CW's Arrow picks up its second season tonight, which means more of the talented Susanna Thompson, the veteran actress behind Moira Queen. During the show's midseason break, BFTV had the opportunity to talk with Susanna about finding out Moira's big secret earlier this season, the other roles that she's loved, and the actors and actresses whose work she enjoys.
Audiences were surprised in November when it was revealed that Moira's daughter Thea (Willa Holland) was fathered not by her late husband Robert, but by the villainous Malcolm Merlyn (John Barrowman). What was Susanna's reaction to that paternity bombshell? "I actually was a bit shocked," she admitted. "But that's the magic and the mystery of a series. The writers keep presenting new information to the information that you've already received and that you are already sort of building upon.
"For me, getting to explore this comic world, it's a whole new territory for me. The stakes are much higher and the more they raise the stakes, the more I have to be willing [to go along]," she continued. "It can be quite extreme at times. But I have to just keep coming back to sort of resetting myself so that I can make sense of [Moira]. I can't stay too far away from her. I have to be very close to her." Besides, she added, "I get to work with a lot of wonderful actors, John being one of the best."
Although Arrow is only a season and a half young, it's already established itself as a solid series with a passionate fan base and critical respect. We asked Susanna to tell us what stands out to her about the work she's done so far. "I'll start with the pilot," she reflected. "I thought that we as a cast, with David Nutter at the helm, and Marc [Guggenheim] and Andrew [Kreisberg] and Greg [Berlanti] as writers, we all created something to set a tone in reality and groundedness so that we could then fly out from all different directions. And we use that as a touchstone, still, to come back to."
"I loved exploring some of the flashback moments. Those were very interesting, to go back and explore what Moira was like with Malcolm and with Robert and with Walter, prior to the horrendous loss of her husband and presumed loss of her son," she continued. "The kidnapping of Moira [in "Darkness on the Edge of Town"] was quite hard to do. John Bering directed that, and the [phrase] he used at the read-through was 'We've got a low of raw emotion,' and I remember just sort of holding onto that word 'raw'. [And] the beginning this season, just the subleties of what it's like to play a woman that's lost quite a bit of herself, and to be in the truth of that."