Susan Sarandon Finds Her Grandmother, And In Doing So, Finds Herself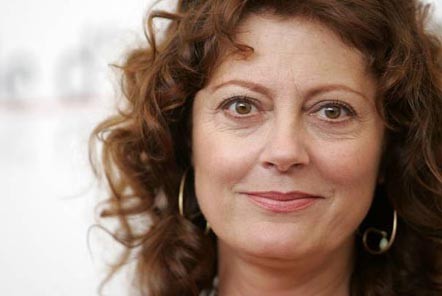 Friday, April 23rd on NBC, the newest episode of Lisa Kudrow's Who Do You Think You Are? features Oscar-winning actress Susan Sarandon, a woman who is no stranger to the journey of delving into one's history. After all, she appeared on the Welsh spin-off of the original U.K. program in search of answers about her grandfather. There she learned how even the smallest villages would send off their men to America but leave the little ones behind simply because they couldn't feed them. The positive experience she had on that show was ultimately what led her to agree to do it all over again for American television.
"I had no idea what happened to my grandmother-- a woman who was so close in time to me," Sarandon explained on a conference call with Starpulse late last week. So when Kudrow approached her to air even more of her family history out on national television, Sarandon didn't even blink, knowing the story would be interesting and worthwhile.
"You know how family stories go as they get passed down," she started. "I had heard that [my grandmother] was a less than responsible mother and that her children had been taken from her-- they were in foster care and eventually in Catholic charities-- but the tale that I didn't learn until much, much later was that she had gotten pregnant at twelve and had her first baby at thirteen, which changed my whole framing of the issue."
The story Sarandon learned as she embarked on the filming of the episode all those months ago was indeed unique (she learned that her grandmother had even dated original Rat Packer Frank Sinatra—a discovery that was particularly thrilling for Sarandon's mom, who raised her own children playing his music aloud in the house in the afternoons) but some might wonder why she would want to expose so much of herself in front of an audience. Sarandon simply put it that "it was a small price to pay that people were discovering it as I was discovering it because I really wanted to know what had happened to her, and I didn't have the skills that [the production] had in tracking her down."
In tonight's episode audiences will learn alongside Sarandon the reasoning for her grandmother's struggles: her own mother had died after having ten children (only three survived) at a fairly young age, leaving Sarandon's grandmother when she was only ten. That had to weigh heavily on her and affect her greatly. "Immediately my sympathy for her was complete when you look at it as this little girl, left without her mom," Sarandon shared. "I still don't know how she managed to survive between the time her children were taken away...This woman who could be so bitter or a drug addict or God knows what, managed to stay afloat with dignity and love and finally ended up having a really sweet little life."
Sarandon assumed it was just too painful for her grandmother to reach out and try to find those children that were stripped from her. She also lied about her age when she got married, which made things tougher for her to be found but also, Sarandon thinks, was probably a way for her to move on from the atrocities of her past and try to reinvent herself in a way. 
Reinvention is something that is key for an actor, and Sarandon admitted that in learning about her grandmother through this show's arc, she has found similarities between them. "Some of the tenacity and curiosity that Anita had, I feel I've inherited. And certainly there is some physical resemblance," she said.
But what was best for her throughout this whole experience was that it "gave my mother a little bit more peace of mind to have a sense of what happened...We had vague notions of early beginnings on that side of the family, but it was nice to finally have some sense of closure."
Therefore, Sarandon would recommend this process to anyone looking to track down a long-lost family member or even a friend. "I think it's important, especially for our kids, to have a sense of where they came from. And it's funny because we're dealing with so many immigration issues in the world, and we forget that we're a nation of immigrants! It's really wonderful to be able to reflect on how difficult it was and how brave they were to come here-- most of the time without even the language, and with very few resources. Certainly, I think they were people who would have preferred to stay where their family support system was, but they migrated because they were escaping very, very difficult, bleak times."
Sarandon's episode of Who Do You Think You Are? is the second to last for the season and airs tonight at 8pm only on NBC. Sarandon will also be co-starring in HBO's original movie, You Don't Know Jack, as one of Dr. Jack Kevorkian's closest friends on April 24th.
Story by Danielle Turchiano
Starpulse contributing writer