Susan Sarandon Confirms Dating Rumors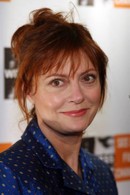 Actress Susan Sarandon has confirmed reports suggesting she's dating her young business partner Jonathon Bricklin.

The Dead Man Walking star, who ended her 23-year relationship with Tim Robbins in 2009, fuelled rumors of a blossoming romance with her Spin table tennis club partner Bricklin in April, 2010, when the couple attended a New York film screening.

A representative for the actress later dismissed the speculation, insisting the pair's partnership was "strictly a business one" and Bricklin also laughed off suggestions he was her toy boy lover.

However, Sarandon, 65, recently acknowledged their two-year relationship for the first time, telling People magazine, "Dating is such a stupid word. You can say... we are collaborating in a lot of different areas."