Susan Lucci Slams ABC Chief Over 'All My Children' Cancellation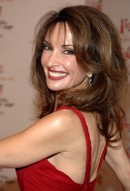 Veteran actress Susan Lucci has taken aim at ABC chief Brian Frons in her new autobiography for axing legendary soap opera All My Children.

TV bosses announced earlier this year that the longrunning beloved show would come to an end later this month as part of a cost-cutting initiative.

And now Lucci, who has played Erica Kane in the series since it launched in 1970, has blasted executives for ruining the program.

In the epilogue to her new tome, "All My Life: A Memoir," the actress slams Frons and his colleagues for moving the show from New York to Los Angeles and replacing writers to produce "subpar" material.

She writes, "I watched Brian Frons' decisions destroy the production of our show and the lives of people on both sides of the country... An iconic show was losing out to greed... If Brian Frons could show his bosses that he could save the network 40 per cent... he could keep his job even if the rest of us lost ours."

And she claims she told Frons: "I think our being in this position is the result of some very bad decisions by you."