Susan Heaton After Her 'Hell's Kitchen' Elimination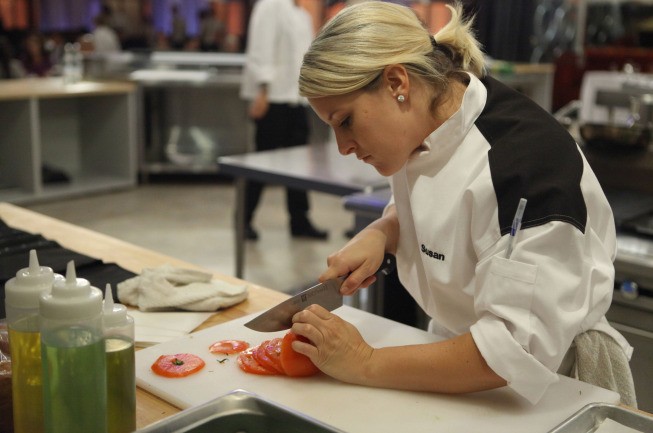 When we last talked to her in April, Susan Heaton was a contender for the Hell's Kitchen title. Last week, Chef Gordon Ramsay sent her home. Susan rejoined us earlier this week to look back on the entirety of her experience in Ramsay's kitchen, and let us know what she's been doing since the competition ended.
She has no hard feelings about her departure. "I think there is always room for improvement," she reflected. "Since it was my first time working a line, and working for Chef Ramsay, I think that in retrospect I would handle my nerves better and slow down and be more assertive with my responses and more confident with my skills, but that is something that comes in time and with experience. I am a stronger chef today than I was the first day in Hell's Kitchen."
"I am extremely proud of the accomplishment of receiving a black jacket and proving to Chef Ramsay that I am a real chef," she continued. "Not knowing or having worked with most of the equipment and ingredients was an additional obstacle that gave me grief but considering that I think I did very well. One thing that didn't really come through as much on the TV screen was the amount of energy I put into encouraging my teammates and staying positive all the time."
Although she won't be taking home the top prize of working at Ramsay's restaurant in Las Vegas, Susan got a huge compliment from the Michelin-starred legend, who said as she departed that she was leaving as "a real chef" and told her that he might have a job for her in the future. Reacting to those kind words, Susan told us, "Aside from winning the show I think [that] is the best thing that could have happened. I went into Hell's Kitchen wanting to prove to myself that I could accomplish this huge feat, but through the process I really strove to get the approval [of] and accolades from Chef Ramsay. I think many of the contestants doubted me because of my lack of experience, so to hear Chef Ramsay say that meant the world to me. He's a smart man!"
What has Susan been doing since she stepped out of the TV kitchen? "So much has happened since the show!" she enthused. "I have been working hard to create my personal chef business and catering events. I have been recognized and the fans have been so kind. This is really only the beginning for me. Still waiting for the call from Ramsay on that job offer!"
"I feel like I surpassed my goals and expectations," she reflected. "I really never thought I'd make it that far [on the show], but I maintained faith in myself and never gave up. I am a fighter and I proved that sheer will and determination can take you pretty far."
She added that her experience on the show has changed the way she looks at dining when she goes out. "I'd worked in restaurants before but only in the front of the house, so I had a genuine respect for the kitchen but now even more so," she explained. "I am much more patient and appreciative then the average diner and I know the amount of work that goes into making one dish perfect. I have a huge amount of respect for chefs and everyone in the culinary field."
What restaurants in her native Southern California would she recommend that we check out? "LA and OC have so many great dining hotspots. I love finding restaurants that source locally and sustainably," Susan said. "A few of my favorites in LA are: Beer Belly, Baco Mercat, Bottega Louie, Son of a Gun and I'm dying to try Tois Mec. There is a great new place in OC called Bru Market and Grill - they have some delicious food and amazing craft beer and wine."
And of course, she's striving to share her own dishes with the audience she's found from Hell's Kitchen. "I'm excited for what the future holds and possibly meeting some fans at events around the country," Susan told us. "Most importantly I hope that I can inspire people of all ages to never give up and always challenge yourself, you just never know what could happen."
You can keep up with Susan on Twitter (@SusanHK11). Hell's Kitchen continues tonight at 8 PM ET/PT on FOX.
(c)2013 Brittany Frederick. Appears at Starpulse with permission. All rights reserved. No reproduction permitted. Visit my official website and follow me on Twitter at @tvbrittanyf.