Susan Boyle Hotter Than Rihanna & Lady Gaga? Pussycat Dolls Set To Split, More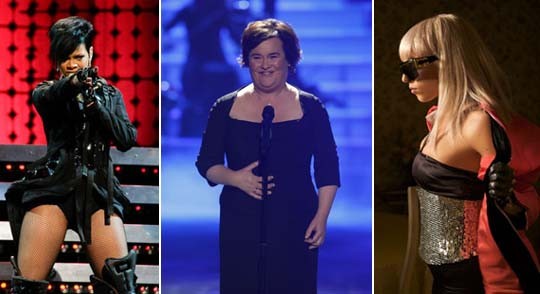 Weekly Music News:
Thanksgiving has passed and now it is time to make room for Christmas. While we get ready to bid farewell to yet another year, rapper
Lil Wayne
is saying hello to another child, congrats. Chris Brown's 20/20 interview, Mariah Carey's new album and Susan Boyle's triumph over Rihanna and Lady Gaga round's out this week's music news.
Chris Brown will appear on 20/20 December 11
Chris Brown is set to appear in yet another interview to discuss his physical altercation with ex-girlfriend
Rihanna
. Here's why it's interesting, Chris Brown made a promise that he would not be partaking in any future interviews when he appeared in an interview with New York radio host Angie Martinez, seems like Chris has more to say. And more to say it is; Chris is said to speak in-depth about what took place between he and Rihanna during the early morning hours of February 8. If you can remember, Chris has remained tight-lipped about the physical fight he and Rihanna were involved in simply giving answers such as the infamous "I want to keep the event between me and Rihanna private" in interviews with CNN's Larry King and MTV's Sway. Rihanna, who spilled the beans in her interview with Diane Sawyer, didn't share the same sentiment which is probably why Chris is ready to give his side of the story. The interview that was taped last weekend will air on ABC's 20/20 on December 11. Chris's album Graffiti is scheduled to be released on December 8.
Lady Gaga performs with Kid Cudi
As you should know, Pop's problem child Lady Gaga kicked off her "Monster Ball Tour" the day after Thanksgiving while most of us were fighting over that last sweater in H&M. At her first show at the Bell Center in Montreal, Canada, Lady Gaga brought out her tour mate rapper and
Kanye West
protégé Kid Cudi to perform his song "Make Her Say", but what Lady Gaga said was much more newsworthy. Lady Gaga has been known to bridge the gap between genre's with her appearance in rapper Wale's song "Chillin" and recently shaking her tail feather in
Beyonce Knowles
's "Video Phone" video, but this quote was priceless, foul language and all.
"You know what music's about? Music is about bringing all people together. Music has f***ing no religion. It has no f***ing color. It has no f***ing genre. It has no politics. It has no money. It's f***ing free."
Lady Gaga is such the ambassador of peace.
Mariah Carey's Memoirs of an Imperfect Angel remix album set for 2010
The remix collection for Mariah Carey's twelfth studio album Memoirs of an Imperfect Angel has received a release date set for February 2010. The remix album boasts appearances from R&B's
R. Kelly
,
Trey Songz
,
Jermaine Dupri
,
Outkast
's Big Boi and 90's super group
Jodeci
. It is quite understandable why Mariah and her label are interested in re-releasing Memoirs of an Imperfect Angel due to its lukewarm response from the fans, though it is unclear how many people are jumping in their seats anticipating the remix of an album they didn't really care for. Besides, isn't the New Year supposed to usher in all things new? Mariah will be dragging in an old album from a past year. Who knows, maybe the Memoirs remixed is far more enticing.
Janet Jackson and Alicia Keys announce UK tours
Janet Jackson and Alicia Keys have both announced impending European tours scheduled to kick off in 2010. Janet Jackson revealed to UK website The Times that she will be embarking on a European tour next year - her first in over 10 years. The dates have yet to be released.
As for Alicia Keys, the singer's tour will kick off in May of 2010 in support for her forthcoming album The Elements of Freedom that is due in stores December 15, 2009. Tickets for Alicia's UK shows are currently on sale. Alicia Keys will be performing tonight at the Nokia Theater in New York City.
Susan Boyle is hotter than Rihanna and Lady Gaga
From late October and early November, we have been rubbing our hands for the highly anticipated albums that were set to be release on November 23. Two of those highly anticipated albums were Lady Gaga's The Fame Monster and Rihanna's comeback album Rated R. Though these ladies' albums riled up a firestorm of publicity and anticipation, Britain's Got Talent alum Susan Boyle seems to be the golden curve ball of the bunch. It is being projected that Susan's album I Dreamed a Dream is set to top the Billboard's Chart. Susan's album is said to sell between 625,000-675,000 units in its first week.
Adam Lambert
is projected to take the number 2 spot with his album For Your Entertainment leaving the number 3 and 4 spots open for Gaga and Rihanna respectively. Who would have thought it?
Pussycat Dolls set to split
Can all-girl groups ever last? Various sources are reporting that the Pussycat Dolls are scheduled to announce that they will be splitting for good. Apparently, the femme fatale girl-group have been hanging by a thread when it comes to inner quarrels between lead singer
Nicole Scherzinger
and the rest of the group. In September, the group revealed that they were going on a "break" to focus on solo projects. The band's founder
Robin Antin
has gone on to denounce rumors that suggest the band is having problems.
Story by
Samantha Greaves
Starpulse contributing writer
twitter.com/samanthamy