'Survivor South Pacific' - No Happy Ending For Cochran's Fake Birthday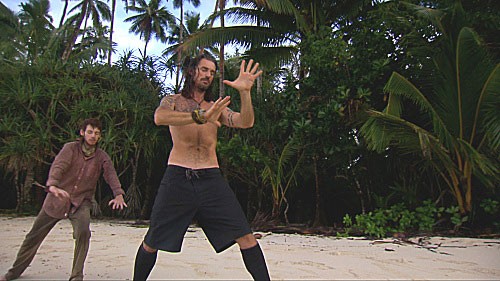 Last week, on Survivor – was a recap, but basically, we saw a lot of previously unseen footage that appeared to show that Coach was controlling the remaining tribe mates through flattery, prayer, and some killer beach Tai Chi. Ozzy, Dawn and Whitney awaited their duel (truel?) at Redemption Island, and the seven left in camp would have to battle it out to stay on the island.
Following the last Tribal Council, both Edna and Cochran looked like the logical next choices for ousting. Edna seemed resigned, but Cochran continued to buy into Coach's 'family' plan. Manson family plan, more like.
With nothing to lose, Cochran, channeling Jeff Probst, calls his own meeting of the gang, and reminds them that he 'sacrificed' for them when he turned on his own tribe, and essentially handed them the win. He asks them to give him one more 'pass' at the next Tribal Council, especially since his birthday is in three days and he'd like to spend it on the island.  Albert and Coach think that Cochran should have that pass, but Sophie feels just as indebted to Edna as she does Cochran.
Time for the 'truel'! It's pretty much a forgone conclusion that Ozzy will decimate any challenge, so I feel no tension as the trio shuffle into the arena at Redemption Island.    It's yet another balancing act; balance a bunch of crockery on a long stick. Dawn loses her stack of dishes – and her temper – first, and has to be bleeped as she curses. Whitney fumbles next, and – surprise! – Ozzy wins the match.
Dawn weeps, as she tells Jeff that she's learned that anything is possible during her time on the island. She kisses her buff before reluctantly throwing in on the fire. Dawn and her striped knee socks are gone.
Whitney's also weepy, but she's proud of having pushed through to make it for 28 days on Survivor. Whitney, this part of your life's adventure is over, says Jeff. Whitney and Dawn become the third and fourth jury members. Coach does not look pleased. Ozzy's still alive, and determined that he'll keep winning and eventually win the game.