Surviving Doors Stars Plan Tribute Show For Ray Manzarek's Birthday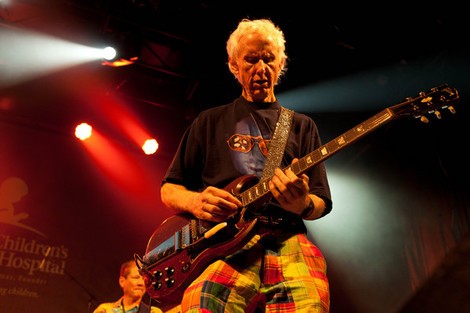 Remaining members of The Doors , John Densmore and Robby Krieger, have set February 12th for their Ray Manzarek tribute show, the late keyboard player's birthday.

Manzarek's cancer battle and subsequent death earlier this year brought the former pals, who fell out over The Doors naming rights. Densmore and Krieger fell out a decade ago during a legal battle over the rights to the group's name and back catalogue.

The drummer won and Krieger and Manzarek were forced to change their touring name from The Doors of the 21st Century to Riders on the Storm - the title of a Doors hit. Densmore also refused to be part of any anniversary events alongside his former bandmates.

Now, they're planning to hit the stage again next year. Krieger tells UltimateClassicRock.com, "It's going to be February 12th. I'm not sure where yet, but probably somewhere in L.A... That's what we're shooting for.

"We're talking with (concert promotions company) Live Nation, and we want to get some great guys to play. I want to get some great keyboard guys, some people that Ray looked up to - Keith Jarrett maybe or Herbie Hancock.

"That would be the first time that John and I would have played (together) for a long time."