Supersuckers Announce New Album Details And Confirm Jan./Feb. Tour Dates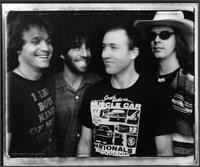 Supersuckers
kick off 2008 with announcing details of their new full-length album and adding more live dates. Singer, Eddie Spaghetti, will perform a special solo set backed by Jordan Shapiro on these dates and the full Supersuckers band will join them starting on January 24, 2008 in Hillside, IL.
The band is currently finishing their new album (to be released later in Spring 2008 on their label, Mid-Fi Recordings) and will be previewing new songs as well as performing their classics.
Currently untitled, the new album will, be the band's first full length recording since 2003's "
Motherf---ers Be Trippin
." Since then, Supersuckers opted to release music through the EP format.
Eddie Spaghetti explains, "Yeah, I pretty much thought we were done making full length records. But the somewhat anemic response to our '
Paid
' EP sort of got me to re-think the whole EP concept. So when we got into the studio this last time, we just threw everything we had at the tape machine and we saw that we had enough for a full length."
Eddie Spaghetti continues, "It's a little different that our previous records. I almost hate to say this, but it's a little bit more mature. An ugly word to use to describe what we do but I think it fits this time around. But it's an awesome record and I'm really proud of the way it's turned out. Now if I could just come up with a title for the damn thing..."
Titled or not, look out for this rock-n-roll juggernaut to be released in the spring of 2008 followed by extensive touring by the band well into 2009.
Supersuckers spent 2007 touring all over North America playing clubs, three motorcycle rallies, extreme sports events at ski resorts, and outdoor festivals like Farm Aid (NYC), Summer Strummer Festival (Santa Barbara), and Hootenanny (Irvine). They also performed 62 shows throughout Europe during that year and filmed "Supersuckers Fan Club DVD #2," a live DVD recorded in Belgrade, Serbia in March 2007. This DVD will be made available to fan club members - over 1000 members strong - for free in January 2008.
Watch a clip from this performance featuring "Evil Powers of Rock and Roll"
The last fan club release was "Fan Club #6" CD and featured demos from 1999's "Evil Powers of Rock and Roll" release. The band finished 2007 with a three-night stand at Los Angeles's Viper Room, which included a New Year's Eve show.
Fusing the love for both rock and country, Supersuckers scratch out a musical hybrid all their own while earning a ballsy live reputation. The Seattle band's (by way of Tucson) latest release is the "Paid" EP. Audio clips of Supersuckers and Eddie Spaghetti's solo albums can be heard through the online jukebox by clicking
here
.
Defiantly independent, Supersuckers have successfully been releasing music through their own label, Mid-Fi Recordings, since 2002 after leaving Sub Pop who released six albums by the band. Since then, the band has sold over 100,000 CDs in an otherwise dismal market, released DVDs, and have toured all over the world, playing festivals like Reading & Leeds to honky-tonk dives in the South. Supersuckers have also played numerous benefits and have donated the proceeds from the digital EP,
Supersuckers Live at the Whole Foods Market at Arabella Station
to the New Orleans Musicians Clinic who provides health care services to musicians.
Check out the song "Paid" here
.
Supersuckers have backed
Willie Nelson
on
The Tonight Show
with
Jay Leno
and have collaborated with
Eddie Vedder
,
Steve Earle
, Kelly Deal of the
Breeders
, and the list goes on. Their music has been licensed to commercials (Mountain Dew), movies (Baseketball, Hype), TV shows (most recently, Discovery's
Deadliest Catch
) as well as countless snow and skateboarding video compilations.
Supersuckers are:
Eddie Spaghetti / singer, bass
Dan "Thunder" Bolton / guitar
Rontrose / guitar
Scott Churilla / drums (formerly
Rev. Horton Heat
's dummer)
TOUR DATES
* Eddie Spaghetti solo without Jordan Shapiro
# Eddie Spaghetti solo with Jordan Shapiro
^ Eddie Spaghetti solo with Jordan Shapiro + Supersuckers
Thur 1/10/08 Seattle, WA @ Tractor Tavern *
Sat 1/12/08 El Segundo, CA @ The Tavern #
Sun 1/13/08 San Diego, CA @ Casbah #
Mon 1/14/08 Long Beach, CA @ Blue Café #
Tue 1/15/08 Hollywood, CA @ Safari Sam's #
Wed 1/16/08 Las Vegas, NV @ Bunkhouse Saloon #
Thu 1/17/08 Park City, UT @ Spur Bar and Grill #
Fri 1/18/08 Salt Lake City, UT @ Bar Deluxe #
Thur 1/24/08 Hillside, IL @ Brauerhouse ^
Fri 1/25/08 Hillside, IL @ Brauerhouse ^
Sat 1/26/08 Parma, OH @ Jigsaw Saloon ^
Sun 1/27/08 Ferndale, MI @ Magic Bag ^
Tue 1/29/08 Mechanicsburg, PA @ West Shore Hardware Bar ^
Wed 1/30/08 Providence, RI @ Living Room ^
Thur 1/31/08 Philadelphia, PA @ Northstar Bar ^
Fri 2/01/08 New York City, NY @ Blender Theater at Gramercy ^
Sat 2/02/08 Asbury Park, NJ @ Asbury Lanes ^
Mon 2/04/08 Allston, MA @ Harper's Ferry ^
Tue 2/05/08 New Haven, CT @ Toad's Place ^
Wed 2/06/08 Virginia Beach, VA @ Jewish Mother ^
Thur 2/07/08 Baltimore, MD @ Ottobar ^
Fri 2/08/08 Pittsburgh, PA @ The Alter ^
Sat 2/09/08 Covington, KY @ Mad Hatter ^
Mon 2/11/08 Sauget, IL @ Pop's ^
Tue 2/12/08 Kansas City, MO @ The Record Bar ^
Wed 2/13/08 Englewood, CO @ Gothic theater ^