Superstar Beyoncé Launches Search For An All-Female Band; Five Sites To Audition Across The US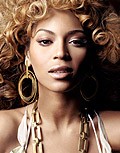 "B'Day," the second solo album from pop superstar
Beyoncé Knowles
and follow-up to her 2003 smash solo debut, "
Dangerously In Love
," is set for a worldwide release on September 4; Beyoncé's 25th birthday. The pop music superstar's sophomore studio album premieres all new music produced, written and arranged by Beyoncé. "Deja Vu," the album's first single, features guest artist
Jay-Z
with production by Rodney Jerkins. Beyoncé's producers on B'Day include Rich Harrison, Sean Garrett,
The Neptunes
, and
Swizz Beatz
.
To support the new album Beyoncé has announced her search for an all-female band. The musicians chosen will become the artist's touring ensemble. Auditions will be held before Beyoncé's creative team and the superstar will make the final selections. Musicians should be at least 18 years and older and prepared to play Beyoncé's hit song, "Work It Out," as performed on the "Beyoncé: Live At Wembley" DVD. Positions to be filled include drums, keys, bass, guitar, horns (alto, tenor, sax, trumpet) and percussion. In addition to having a "look," musicians auditioning for Beyoncé's touring ensemble must be able to play by ear (
reading music is optional
). Musicians auditioning must be able to play one minute (minimum) solo and must bring a headshot and resume to the audition.
Finalists chosen at local auditions must be available to fly to New York to perform a final audition for Beyoncé and her creative team the week of June 12 and must be available to begin working on the road by June 20.
The locations for the open auditions follow:
New York/New Jersey Area:
SST
1806 Park Ave
Weehawken, NJ. 07086
201-864-5666
www.sstrentals.com
Southeast/Atlanta Area:
Crossover Entertainment Studios
1310 Ellsworth Industrial Blvd
Atlanta, GA. 30318
404-352-3716
www.crossover-studios.com
Southern California/Los Angeles Area:
Center Staging
3407 Winona Ave.
Burbank, CA. 91504
818-559-4333
www.centerstaging.com
www.rehearsals.com
Midwest/Chicago Area:
Pressure Point Recording Studios
2239 South Michigan Ave.
Chicago, IL. 60616
312-842-8099
www.pprecs.com
West/Houston Area:
VT2 Studios
2401 West Bellfort
Houston, TX 77054
p 713.877.1877
www.vt2.com
Beyoncé's solo debut, "Dangerously In Love," earned her five 2004 Grammy Awards including Best Contemporary R&B Album and Best R&B Song ("Crazy In Love"). With her five-in-one-year Grammy win, Beyoncé tied the record for the most Grammys to be won in a single year by a female artist. "Dangerously In Love" and "Crazy In Love" made chart history when both album and single simultaneously hit #1 in the U.S. and the UK (which hadn't happened since 1983). Beyoncé toured for the first time as a solo artist in 2003 in support of "Dangerously In Love," which has sold more than 11 million records worldwide.
More on Beyonce
HERE