Supermodel Lily Aldridge Likes Her Stockings Stuffed At Christmas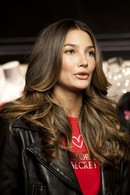 Supermodel Lily Aldridge is a huge Christmas stocking fan and insists on a sock stuffed with unwrapped nick-nacks even now she's married to Kings of Leon rocker Caleb Followill.

The sexy Victoria's Secret stunner starts her Christmas morning by emptying the contents of her stocking.

She says, "Ever since I was a little girl, I've loved having a Christmas stocking. It could be ChapStick in there - I don't care."

And she's hoping to chill out this yule with her husband: "It's a time when my husband and I get to be together and just relax.

"I always buy pyjamas for the both of us, and we just cook together and watch every Christmas movie ever made."