Superman Statue To Be Unveiled In L.A.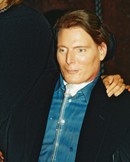 A life-sized statue of late actor Christopher Reeve as Superman is set to be unveiled in Los Angeles.

The actor, who was paralyzed in a horse-riding accident in 1995 and died in 2004, will be immortalized in his most famous character as part of the Los Angeles Times' upcoming Hero Complex Film Festival.
The lifelike statue has been sculpted by British artist Mike Hill and will be displayed during the festival, which will also show some of Reeve's most popular superhero movies.

Hill tells the newspaper, "This figure was sculpted in clay from various stills of Mr. Reeve. The sculpture was then reproduced in silicone rubber and fiberglass. The skin is painted in layers to reflect human skin tones. The acrylic eyes are custom made to match Reeve's own. Each hair is punched (into place) one at a time. The costume is an exact replica of the original..."

"I made this piece to remind me of my youth. As adults we forget the magic moments that forged our childhood dreams. For me Superman still ignites that little boy who couldn't afford popcorn watching an uplifting and incredibly exciting superhero save the planet. I believed a man could fly... and I still do."