Super Bowl Post-Game 'Glee' Recap: Highlights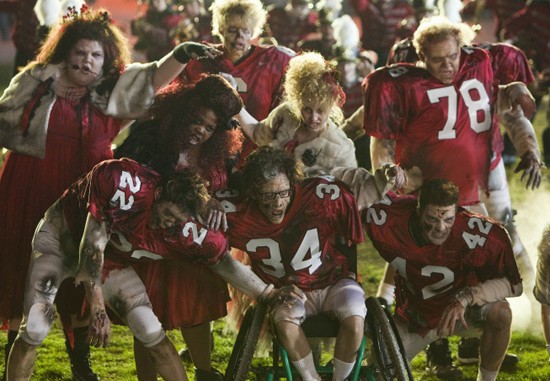 It was a good good night for the Green Bay Packers, the Black Eyed Peas, and millions of Gleeks who had been anxiously awaiting the show's high profile return after the Super Bowl. In keeping with the sports theme here's a list of the top five highlights from the post-game episode of 'Glee' -- 
#5) A Sue-Per Journal Entry/ "Diane Sawyer" Interview – It's been quite some time since we've seen/heard Sue Syvlester Sylvester share her deepest, darkest thoughts in a zippy voiceover. Even if the can't-lose combination of boobs and fire can't get Sue going,  the raccoon hormones aren't preventing Sue from tickling our funny bone.  Though it was a rough episode for the Leader of the Cheerios, at least she got the last word in her Katie Couric interview.
 #4) Puckleberry Performs Lady Antebellum – "Need You Now" was exactly what Puck and Rachel fans have needed for some time now. Sure, it turned out that Rachel did it to make Finn jealous, but a few flashes of Mark Salling's adorable smile more than made up for any arbitrary plot points that might have burst Puckleberry fans' bubble. 
 #3) "Bills, Bills, Bills" – The Warbler's performance of the Destiny's Child hit showed that Kurt is doing pretty well in Blaine-land, and the multi-tasking Glee Club at McKinley better get their regionals rehearsals started right after that half-time show.
 #2) New Couple Alert! The Shue-Beiste – While Kurt's off in Blaine-land, the heart of the show is on loan and this week the earnest educators took the mantel. Coach Beiste and Mr. Schuester were a winning duo in every way.
 #1) Old Couple Alert! Finn and Quinn!?! – Credit a few well-timed cutaways to Dianna Agron's expressive face while Finn was in Superman mode, and their kiss at the end was the most thrilling pay-off of the night. The Valentine's Day episode is looking way more interesting now!
Honorable Mentions
All those Zombies – The mash-up of Yeah Yeah Yeah's "Heads Will Roll" and Michael Jackson's "Thriller" worked surprisingly well musically, in a performance that was almost, but not quite awesome. The risks of taking on such an iconic song were implicit in the show's dialogue, which acknowledged the need to do something original and unexpected with the material. Aside from the musical twist, the show's big, huge, hyped monster performance just didn't feel inventive or special enough. Nonetheless, the solid effort deserves an honorable mention.
Lea Michele – For singing "America the Beautiful" and not screwing up the lyrics to the National Anthem, the much-maligned ingenue deserves to breathe a sigh of relief… and earns an honorable mention.
What did everyone else think? Was this a Super-Glee or not Super enough? How did the Gleeks half-time show compare to the Black Eyed Peas? Are you sad or psyched for Finn/Quinn 2.0? Will their romantic reunion threaten the stability of all the Glee couples?!? Did McKinley just get a hockey team this week, and shouldn't they have their own non-slush method of humiliating and bullying inferior extra-curricular organizations? Any suggestions? Let us know!