Sunset Strip Festival Kicks Off Thursday With 'Motley Crue Day' Declaration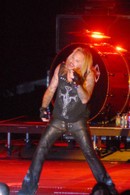 The honors keep coming for rockers Motley Crue - they've now landed their own day in the City of West Hollywood in Los Angeles.

The band will be feted at the fourth annual Sunset Strip Music Festival in Hollywood this weekend, and they'll kick off the celebrations with the declaration of Motley Crue Day on Thursday.

In making the announcement of the declaration, West Hollywood Mayor John Duran says, "So many of us native Angelenos consider Motley Crue to be our home boys. It will be an honor to recognize the Saints of Los Angeles in our hometown and thank them for the incredible contribution they made to hard rock, glam and Southern California music."

This weekend, the four-piece will also be presented with the Elmer Valentine Award for their contributions to the history of the Sunset Strip and they'll also be honored by bosses at bourbon makers Jack Daniels, who have crafted a limited edition barrel for the one-time hellraisers.